Taking your baby on a road trip is a fun and thrilling experience that you can't find anywhere else. With a bit of preparation and some confidence, you are sure to have a fantastic time taking your baby anywhere you would like to go. Depending on where you have decided to road trip to, these steps can vary a little bit. And they can vary even more if you decide to start your trip in another country, as you will need to think about where you will get your transport from. For example, if you go to Iceland, you can always rent a vehicle from somewhere like Cars Iceland to get you started, and they have a wide variety to choose from, so you are bound to find one that suits your situation. Whilst this comes down to personal preference, there are generally some basic guidelines to follow no matter where you go. If you're the type of individual who prefers to road trip with no set destination, then this is the guide for you!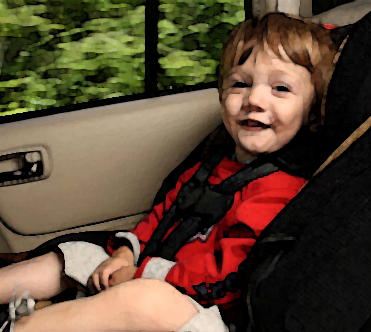 PREPARATION:
STEP 1: HOT AND COLD
Make space in your vehicle for 3 or 4 blankets of varying warmth and thickness. You'll want a small comforter than can cover up baby if you drive into any cold zones (two of these blankets is best). You'll also want a medium thickness blanket in case it's a bit chilly but your babe is upset about being too warm. Then you'll want some thin blankets in case you run into warmer weather in a really windy or sunny area. Make sure to take clothing that can change with the environment as well. You'll want 2 sets of hot weather clothes, 2 sets of warm weather clothers, 2 sets of cold clothes, a warm sweater, a big fluffy coat, warm hat and gloves. It is also prudent to bring a wet suit if you prefer your infant to wear one while swimming with you, should you decide to go water dipping on your adventure.
OPTIONAL: A rain suit, or clothing that is water resistant, in case you run into a torrential down pour.
STEP 2: IN AND OUT
With babies, there is constantly something going in their bodies and coming out the other end. You know the routine. In order to have a fantastic road trip, you'll want to make sure you have everything you need to keep baby fed and cleaned when he decides it's time for either task. Especially since junior doesn't understand that he'll have to wait for the next town with a store. You'll want to keep fresh soft foods available such as soft cheese, infant crackers, pureed baby food, formula (if you use it), water, a bottle and any preferred snacks. The smaller the snacks are, the easier they will be to store and take with you either in the car or on foot while hiking. Make sure that you can fit them in between 10 to 15 diapers. Make sure you also have some supplies to clean baby up after snacks and meals. Having some wash clothes, organic baby wipes and a few bottles of water can give you all you need for cleaning up.
On the subject of diapers. If you're going on a road trip, you might want to consider The option of using mostly cloth diapers, while keeping a few spare disposables available for lack of other options. The reason I suggest this, is because if you prefer to go camping, hiking or doing things outdoors, you won't have any place to throw away a disposable diaper. A cloth diaper, however, can be emptied by digging a hole in the ground off the path, and then cleaned with a spare bottle of water, in a stream, river or lake. Then you can hang the diaper somewhere to be reused. PLUS: Cloth diapers take up much less room in your packing. Just make sure to take along some organic and environmentally friend soap to wash the diaper with. This protects your child, yourself and the environment. If you decide to go on an "in city" road trip, where you might just travel from your city to a city far away, then you can still reuse the cloth diapers in the same way. If you find yourself in an area where you cannot empty the clothes into a toilet and clean them in the restroom (or you prefer not to), then those disposables will come to the rescue. Plan on having some diaper rash cream handy. You never know when a rash might arise to attempt to ruin the trip for baby. I recommend getting some "Hemp Eaze" www.hempeaze.com as it can clear up diaper rash in a few hours, with no side effects or toxicity. It's health, cost and size effective.
STEP 3: THE PACK
I call it "The Pack", but some others might call it the "Mobile Nursery". The essential idea, is that you bring with you a back pack that can be a multifunctional road trip aide for you and your little one. Now, if you can't fit this in your car, then you know already that your car isn't big enough for a road trip – especially with a baby. You could always hire or buy a van instead, if funds allow. You can always get cheap van insurance online so that will help to keep the costs down. As for your pack, it needs to be light enough that it doesn't exhaust you to walk around with it, but sturdy enough to carry everything you need to take with you. In order to do this, you'll want to make sure all the supplies you take with you, come in as compact a size as possible. Snacks, diapers, water bottles, clothes, toys, first aide, blankets and anything else you decide to bring. You'll want to try and limit the "excess" that you carry and cut it down to things that you will need for any situation, without things that you just "want" to take. Try fitting in the essentials before anything else. It also helps to have a Pack that can double as a baby carrier. You can do this in several ways: (a) Get a hiking backpack that already has a built in baby carrier for your back. These are MIGHTY useful if you like to go outdoors. (b) Get a baby carrier that has legs on it that extend down. These legs can be used to secure a backpack, baby bag and other necessities. Make sure you get sturdy rope to tie things on too! (c) Get a front side baby carrier. This way you can carry baby on the front and your supplies on your back. This is actually a great way of giving some balance to your body while you walk around anywhere.
What you'll want to Pack in "THE PACK":
(a) Sunscreen, diaper rash cream, misc rash cream, bug bite remedies, antibacterial cream, etc.
(b) Snacks, Baby Food, Juice, Lots of Water, Powdered Formula, Cloth Diapers, Disposable Diapers, Organic Eco Friendly Soap
(c) Chewing Toys, Favorite Toys, Baby Books, Distractions, Soothing Music (A Walkman, mp3 playeror iPod will do)
(d) First Aide supplies, a cell phone, organic baby aspirin, herbal tummy soothers (such as mint or ginger)
(e) 2 sets of Hot Weather clothes, 2 set of Warm Weather clothes, 2 sets of Cold Weather Clothes, 1 sweater, warm hat, gloves, 1 baby sized comforter, 1 medium thickness blanket, 2 thin blankets, 2 towels, 4 wash cloths, swim wear, rain wear.
(f) 1 pair of Hot weather clothing for You, 1 pair of cold weather clothing for you, swim wear, rain wear, toiletries, second pair of shoes, wallet/purse, small survival kit, snacks and water for you, a book you enjoy, any medications you need to take with you.
(g) If you are also taking along a doggy animal companion, you'll want to make room for their supplies as well.
REMEMBER: Get these items in as compact a size as you can. This is why I suggest Hemp Eaze as an item, it can take care of all skin injuries like diaper rash, itching, bug bites, poison oak, sun burns and other issues. Though it does help to get a small squeeze tube of organic sun screen if you or baby is extra sensitive. ALL of these items can be fit into a medium to large school backpack, but are much easier when placed into a hiking type backpack. You'll want to go with a back pack that is designed to be on your back for a long amount of time, if you prefer not to wear yourself out. If you go hiking, camping, site seeing, touring, walking, park adventuring, to the zoo or anywhere else that has you on your feet for more than 30 minutes, you will not be unhappy you got a good back pack that can carry everything, still be light and double as a baby carrier. Baby will be much happier that you were well prepared as well as everyone else on the trip.
STEP 4: ENTERTAINMENT You will not want to go ANYWHERE without something to amuse your child. With most infants and young children, road trips put them to sleep while you are driving (which is probably just as well, considering your usual method of sleep training, like the Ferber method, is likely out of the question in such a restricted space). For most adults it does that as well. So unless your child is in a particularly feisty mood when you head out on your road adventure, then you will likely have a fine time while you are driving. You will want to be prepared in case your child does decide to stay awake and isn't content just looking out the window. You will also want to prepare for while you are enjoying your destination, where ever that might end up being. You'll want to bring along toys that are light, compact and easy to get to. It is a bonus to bring your little ones favorite toy(s). Something they can have with them while they are in the front or back back are the best, as well as some other toys for the car, so that they don't get bored with just one thing. Make sure to bring along some soothing, fun and interesting music for the car and anywhere you go. You'll want something that can put baby to sleep, get your little one dancing and something to pique their interest. Have some CD's/tapes for the vehicle and a Walkman, iPod or Mp3 player handy. TIP: When you stop or rest somewhere, your blanket can double as a place to lay your child on top of on the ground where they can play off of the dirt.
ON THE ROAD STEP
5: MONKEY SEE, MONKEY DO Remember that your infant can sense your emotional state. This is an important factor when you go road tripping. If you get lost and nervous, so will your child. If you get in an argument or debate with your spouse or friend, your child will get upset as well. If you are hungry and it's making you crappy, you can expect copy cat emotions from your youngster, etc.. Make sure that you maintain a happy mantra, especially since it isn't likely that you'll get many breaks from baby while you are out on your trip. Plan to be in a good mood the whole time and you'll increase your chances of your baby having an enjoyable time as well. TIP: Take a squeeze ball if you have to, or bring your favorite book as a distraction.
STEP 6: SING ALONG SONGS, NURSERY RHYMES AND HAND GAMES
These are the best tools to bring with you for any situation. They don't require packing and if you need a few extra ideas for them, you can simply write them on a piece of paper and carry them in your pocket. Remember the songs we used to sing as kids? Such as "This Old Man", "The Wheels on the Bus", "Ring Around the Rosie", "Patty Cake", "Open The Steeple and See All the People", "Miss Mary Mack" or any others? These are great songs with actions for any child between the ages of 6 months to 4 years old. If your child is younger than 6 months, all you need is a good game of tickling and some infant massage know how. Even a game of "Peek a Boo" never hurt.
STEP 7: WEATHER ADAPTION
Just as you packed to have clothing and supplies for any type of weather, you'll also want to be wary of adapting to different situations. If you are out hiking and it starts raining, this is when a small survival kit comes in handy. you'll want to set up an area under a space blanket that can keep you out of heavy rains should they come. Mother earth is unpredictable and you never know when it might start pouring down rain or snowing, even if it has been sunny for 3 hours.
You'll also want to keep a road side emergency kit in your car, so that if you pass through snow, ice, sand or otherweather emergencies, you are prepared to get yourself moving again, or safe and warm in case you have to wait fora rescue.
Try to make sure to change your babies clothing, position in the car or toys as the weather changes, or as their attitude towards the weather changes. If you go into a cold zone, it's better to stop and put some blankets on her if you know you'll be driving through it for a while. The same goes for hotter driving zones. Taking the time to stop and take care of it before it's a problem will increase your enjoyment of the whole trip.
STEP 8: BRING FRIENDS OR FAMILY
Bringing an adult family member (such as a spouse) and/or bringing along some friends can not only increase your personal fun level, but they can provide some support if you should need it. Nevertheless, you must ensure that all of them can fit in the vehicle in which you plan to take a road trip. If your vehicle is small, you might want to consider renting a camper van from Rent.is or other similar firms as they have a heating system that could keep you warm all day and night. This is monumentally beneficial on road trips, especially if you're planning to go somewhere cold. Solo trips are their own kind of fun, but should your child decide there is nothing in the world that can make them enjoy the trip and you are to far gone to go home, then you will be glad someone else was there to calm them, watch them or just let you have a breather for a minute or two. Just make sure that your friends and/or family members are prepared to pack and carry their own supplies. You don't need to be weighed down with anything else.
STEP 9: PLACES TO AVOID
There are not as many places to avoid with baby that you might think. Many adventurous parents take their young babies camping, sailing, hiking, rock climbing, site seeing, tree climbing, swimming and more. You are really only barred from doing what you are uncomfortable with or going to "Adult Only" places. So the places you will want to avoid are bars, places that allow indoor smoking, tattoo parlors, drug zones, and extremely loud environments. Other than that, it's all about common sense. Avoid hanging out over cliffs, sharp rocks, hanging out with dangerous people, going into the deep end of water with baby, places with no shade at all, places that are hotter than 100* F, colder than 20* F or places that are so crowded you can barely squeeze through, let alone trying to do it with a baby strapped to you.
STEP 10: HAVE FUN AND DON'T DOUBT
The worst thing you can do on your trip is a be a big worry wart. Your baby is sturdier than you realize and so long as you are having a good time with them, they will have a good time with you. Plan to prepare and you plan to succeed. Have confidence, be prepared, have fun, use common sense and bring along your friends and/or family and you won't be sorry you went on a road adventure. You might even be thrilled to do again in the future!
by Bema Self Created on: April 26, 2010