I have been using the body butter on my hands for arthritis and it works great. The lip balm is truly awesome. I had really chapped lips and the lip balm had my lips healed and feeling so very soft in 2 days! Last night I asked a friend to please rub the massage oil into my neck and shoulders and I was so surprised at how well it worked. I absolutely LOVE your products and I will definitely order more in the future. I like the fact that a little goes a long way when applying these products.
I use Hemp-Eaze every day
I won't have it any other way
For all my aches from head to toe
Hemp-Eaze is the way to go
The Lip Balm made especially for lips
Makes my lips moisturized, soft and ready to kiss
The Body Butter with Honey and Hemp Root
Helps me to give my psoriasis the boot
There's even a Hemp-Eaze for tattoo's
I use it for more vibrant reds, greens, yellows and blues
I really like the First Aid Pet Spray
It helps make my dog Pookie's dry skin go away
The Lavender and Hemp Massage Oil I can't live without
It's better than prescription pain lotions with out a doubt
So from my head down to my knees
I LOVE ALL MY PRODUCTS FROM HEMP-EAZE!!!
~Sandee Kean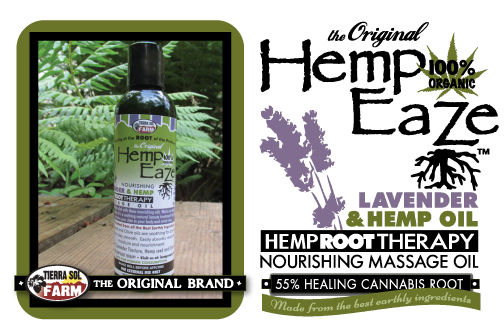 ---