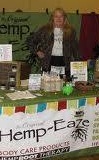 We first met Darcy and purchased a Jar of Hemp-EaZe at the local Farmers Market quite a few years back. Since then we've bought many jars and handed them out as gifts to friends and family for all sorts of aches and pains.
Recently we used it to good effect to help in healing a bad cut that one of our dogs got when tangled in a bit of barbwire. It's nearly healed though it was a nasty cut.
We also use the Hemp-EaZe for pets, both on them and on us. The products work great on bug bites and itches of all sorts. One of my favorite products that's new to me is their lip balm. Absolutely wonderful, never leave home without it.
We're really enjoying all the new products that have been added and very happy to get them locally at S&S produce in Chico, Ca. And very happy for Darcy and her growing product line.
If you don't have an outlet nearby, the online store service is excellent as well.
Thank you Darcy for bringing your healing talents and products to us all.
Always, Evi