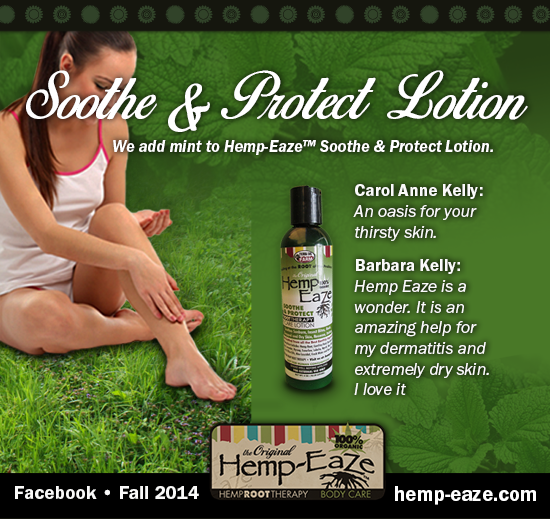 ---
Hemp-EaZe™ Soothe & Protect BODY CARE LOTION is Soothing relief for Rosacea, sunburn, Dry, Chapped, Rash and Irritated skin. Luxuriously scented with fresh mint from the garden – light on skin, yet rich, This lotion soothes and purifies the skin and improves its texture. Gives high level of moisture to maximum softening of very dry skin. This concentrated lotion is 6oz. o healing Hemp-Eaze™ formulated for quick absorption and penetration. Helps skin feel comfortable hydrated and moistureized. Soothe & Protect BODY CARE LOTION Can increase the skin nutrition.
With addition of Feverfew
Feverfew For The Skin; Some laboratory tests show that feverfew can reduce inflammation, so it has been proposed as a potential treatment for rheumatoid arthritis. Feverfew Cools down hot and angry skin irritations, by reducing inflamed blood vessels. Great for treating Rosacea and Psoriasis, as well as diaper rash and other skin problems.We have added this fine herb to our Hemp-EaZe Body Care Lotion and our Baby & Me Products.
Feverfew for Rosacea; Studies have shown that feverfew is a good treatment for rosacea. Rosacea is a chronic disorder of the skin that causes inflammation, redness and soreness of the cheeks, forehead and chin. It can also cause stinging and eruptions of the skin. Because feverfew has anti-inflammatory properties. it may reduce the swelling and soreness of rosacea.Hemp-EaZe has been clinically tested with Rosacea suffers with much success.
Feverfew for UV protection; According to the February 2008 Archives for Dermatological Research, a study by Martin et al., showed that feverfew helps protecting the skin from the cumulative damage of exposure to the sun's ultraviolet rays.This means feverfew could protect your skin from inflammation, sunburn and premature aging. Another reason we chose Feverfew to be a part of the Hemp-EaZe formula.
Feverfew For After Shaving; Shaving can often cause the skin to become red and sore. This may be because you have sensitive skin, are shaving to quickly or with too much pressure, or because you're allergic to your shaving foam. According to Skincare News, applying topical feverfew after shaving can reduce soreness and redness due to its anti-inflammatory properties.Feverfew is grown organically in our herb garden at Tierra Sol Farm.
---