Hello all you lovely Hemp-EaZe™ friends, fans and followers.
I'd like to share a little piece of how Darcy and I..and Bill! make things happen, how we communicate about Hemp-EaZe™ and the reason she's going to be offline for a few days. 
This is our conversation recently on Facebook…where we do a lot of Hemp-EaZeing 😉 Darcy and Bill have such a love of their mountain life and all that it entails…I find them very inspiring and I truly love the relationship we've grown, and the work I do them. Peace! ~Shelley 
---
• Darcy Stoddard
Your up early!
• Shelley Furgason
Yep…good morning. I actually went to sleep pretty early last night so at 7 I woke up…and headed for coffee…plus my dog wanted out
…so yeah I'm having a mellow wake-n-bake plus coffee and news morning…although I'm turning off news shortly to look at something more interesting, while I eat. Then I'm going for a walk its really nice out.
• Shelley Furgason
I just now saw carol shared some pics you posted? You should send that all to me cus it will make a great post on the site.  Love how you tell all about your water usage/ needs and history. More like that yes!
• Darcy Stoddard
wow bright eyed and bushy tailed for a Sunday! LOL oh o.k. good idea! I'll send those pics to you 😉 LOL yes when I walked outta the house yesterday the morning sun on my little creek was just so enspiring!
• Shelley Furgason
Very cool!
I'm on my phone and its being stupid. …must restart
• Darcy Stoddard
o.k.
• Darcy Stoddard Blast!
I woke up this morning and remembered 420! sheesh, let's just do the coupon code 15% off…oh btw I love the Earthday ad! so cool ((((HUGS)))
• Shelley Furgason
Just got back from my walk…I'll do a 420 ad after shower, no sweat…oh wait…yes lots of sweat from walking…but I'm just about to take care of that wink 😉 LOL! and your welcome!
• Darcy Stoddard
LOL cool thats probably better than sweating and pulling weeds 😉
• Darcy Stoddard
LOL psychedelic LOL are you still editing? cause I wanted to add coupon codes XXXXX plus store link.
• Shelley Furgason
I'm totally testing it right now I can change it…can't get the damn size to go bigger like I want…so Ok that code is different from the one I used? No that's the same code…its small under the words…Ill make it a little bigger.
• Darcy Stoddard
yes you got it…
• Shelley Furgason
How's that? I can go bigger but I still like it…you ok with it? Let me know its ok and I'll post it to google and twitter for you. The idea is it moves! hopefully grabs attention
• Darcy Stoddard
yes thats good
• Shelley Furgason
ok cool…I shared it all over
• Darcy Stoddard
LOL that'll get'm 🙂
• Shelley Furgason
I like some of your posts Ive seen with photos and tales of mountain life! I think you should stop doing it on Facebook and do it as a site post instead…that gets shared to Facebook. Like if you have one of those moments where you go…hey I should share this…STOP tell me all about it and let me turn it into a good post that starts on the site….THEN share the hell out of it. It's part of your story ! 😉  AND the more new, current stuff on the site the best…
• Darcy Stoddard
oh god yes! I've check the hits on those and wow! before we were getting like 17-25 hits a day but now it's like 100! very cool, I know it's time consuming to do this and I really appreciate all you're doing ((((HUGS))))
• Shelley Furgason
I know you appreciate it and you're very welcome. I'm glad you're seeing some results. Makes me feel really good.
• Darcy Stoddard
It's so cool to have you as a partner (heart emoticon). We make a good team smile emoticon
• Shelley Furgason
YOU GOT THAT RIGHT!! WE ROCK!
• Shelley Furgason
When you get the new brochures make sure to send me a good stack so I can put then in the dispensary I go to every week. I've met some great people there, have told them about Hemp-EaZe™ and am eager to show them more…and I can leave a stack for everyone to see, they have a table set up to share things like that.
• Darcy Stoddard
I'm getting them today! the P.O. sent me a notice I sure will!!
• Shelley Furgason
Oh good good…
• Darcy Stoddard
so are you done with your walk? how's the weather?
• Shelley Furgason
Still need to take walk today…weather is sunny and 71 out right now. Its actually been spring here since February…we're all wondering if summer is coming early too. NOT HOT YET tho!!
I will do the walk here in about 30…unless I get another email…but then I can see it on my phone and I just let them know…I'll be online in 10..or 15 however long it takes me to walk back home wink emoticon
So…I'll be around or in and out if you need anything…I'm just a message away!
• Darcy Stoddard
Well hold on I know the valley where Carol lives she's been complaining about have no spring just hot summer and they are at 80's already! for me it's crispy about 58 some clouds, I'm hoping for rain tomorrow so I can easily pulled weeds again, cause the ground is drying up too quickly!
* Darcy Stoddard
Oh I've got zucchini and tomatoes in the ground now! Yippie, progress! have a great walk! smile emoticon
• Shelley Furgason
I'm trying to grow that too! Tomatoes, zucchini, spinach…so far just sprouts 😉
I will! Have a great rest of the morning!! HUGS!!
• Darcy Stoddard
((((HUGS)))) back my beautiful friend!
• Darcy Stoddard
oh god the tree guy just left, he says it's 130 foot tree and he's going to lay it down right across the front of our house oh sad for such a beautiful old growth tree and inside I am mourning a little about the blooming dogwoods that no doubt will be flattened along with a whole pretty growth of ferns when they drag it outta here. But it's gotta go before it gets real dry and crushes the house. So he'll be here Monday morning and we need to dismantle the dish, so I'll be off line until when ever, So I'll try to get all my thinking and scheduling, etc. all done by Sunday.
• Shelley Furgason
Wow! 130 feet!
I can definitely understand about what happens when in comes down…crap! But he is gonna actually drag it outta there? I bet that's going to be quite dramatic to see! Oh my…well…it must be done. Things,'ll grow back? And hopefully not setting you back a small fortune.
• Darcy Stoddard
oh shit Bill just told me it could be a couple days just to clean up the mess and get the dish back on. Oh yeah he'll drag it but only the money part then we've gotta clean up the debris and haul the branches somewhere. Oh I hate when they come down, first they slowly splinter and crack then when they land the whole earth shakes it's like a sister dying.
• Shelley Furgason
Well..hmm I guess you'll be down for a bit…that's ok. Everything will be fine I'll post as often as I can. I schedule some for sure. It'll be fine.
• Darcy Stoddard
I sent a message to see if Carol can monitor the store, but she's so busy
• Shelley Furgason
We need to share it!
Take lots of pics this is a great story.
Another part of the adapting like with the Water!
Ahh..a sister tree : -(
• Darcy Stoddard
oh boo, besides once it goes shit flies everywhere and the dust and pollen cloud lasts for 1/2 hr. usually I take a walk and leave the whole scene. smile emoticon
• Shelley Furgason
She's been there a long long time. Ok I can understand that. I can imagine its quite dramatic.
* Darcy Stoddard
Bill is thinking of how old it must be because it's a sugar pine tree, he's thinking around 120 yrs, old, which is rare since most of the sugar pine get logged early.
• Shelley Furgason
Wow 120 years!
• Darcy Stoddard
yeah there was a saw mill set up around the corner during the gold rush, so lots where taken, then sometime in the 70's they logged around to build this 'homestead' in the 1800's, so perhaps this one was always skipped over.
• Shelley Furgason
Do they still log anywhere up there?!
• Darcy Stoddard
oh god always!! it's terrible! When the old folks died that owned the property around us was all logged, and looking at google earth you can see all these patches of dirt and we are suppose to protect the area cause of water. Mostly we are the only nieghbors that don't look at trees as a dollar sign, we groom the forest under used all the dying stuff for heat and cooking only.
• Shelley Furgason
Oh shit they do… yeah that's devastating to see.
Its great how much you know about all the history there. I can imagine doing the same thing…you love it, so you've learned all about it. Shit!
• Darcy Stoddard
oh the history is awesome around here! The Indians use to come up from the valley heat and have encampments all over this ridge, we keep collecting old rusty stuff from when there was a tent city of miners just down the hill from us, all up and down the ridge were cattle drives too.
• Darcy Stoddard
hey look I just gave you some more history! you are cleaver LOL!
• Shelley Furgason
Yeah check that out!
* You just wrote a post basically ;
* I'm gonna use it…just wait…it'll be fun. Tomorrow tho…or later tonight. I need to eat! Tee hee perfect.
• Darcy Stoddard
Oops your right time to cook dinner, oh that Chico mag may have a few references to the history, wow cause there's tons of it around here, I am so lucky to have met some of the old timers and seen the old structures before they were gone smile emoticon anyhoo time to eat bye sweetie.
• Shelley Furgason
Oh yes I will look for that I've got it right on my desk. Ok Hugs and both of you have a good night!
• Darcy Stoddard
yippie! Carol will mind the store…..fingercrossed that damage is limited.
• Shelley Furgason
Thumbs Up Sign
• Darcy Stoddard
Looks like tomorrows the day I'm off line now for sure, here's a pic so you can see why I'm so nervous . You can see how dead it is from the top and how close it is to our cabin. The tree guy says these are dying all over here because of the draught.
---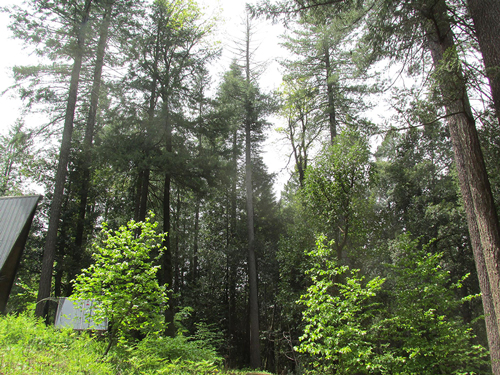 ---
• Shelley Furgason
Ok wow! Yeah that's close. I'm going to be able to get to the tree story post this afternoon. And then I'll post it while you're away..to explain further in a fun way I think…your absence. It'll all be ok 😉
• Darcy Stoddard
ha ha…a little sarcasm
Oh shit then we need to plan for Moms day coming soon!
• Shelley Furgason
Oh shit that"s right…moms day…Ok…that's not hard. Just tell me what you wanna do..say and I'll make it happen.
---
(part 2)  She moaned all the way down! 
Darcy Stoddard I'm baaacckk, pics to come gotta get things together at the store then I'll be around 🙂
Shelley Furgason Super! That wasn't long at all. Just leaving for my walk. Be back in about an hour. Beautiful day out!  (read more)
---