We continue this healing journey with the creation of the Original Hemp-EaZe™ Pet Aid First Aid Spray.
We have been able to keep branching out and reaching more people to help because of the many positive testimonials that our happy customers continue to give us. Over the years and to this day, people share their stories and help others gain confidence to try a sample. These are just a few.
Hemp-EaZe™ PET AID First Aid  Spray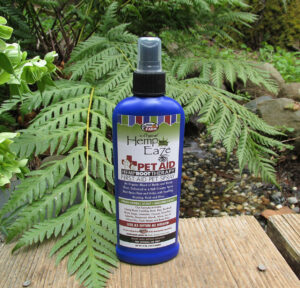 works wonders 01/19/2018
Going to give my dog a bath because his skin is dry and he is itching terribly. When I'm done bathing him I will be using the pet spray…..it works wonders
for dry skin 11/29/2017
My dog has dry skin. I used the Hemp-EaZe Pet Aid on her 2x a day and she hasn't itched in a couple weeks. Works great!
wounds healed quickly 09/10/2017
A lady who works at my credit union told me of a savage attack to her little dog so I took up the pet aid up to her.I saw her today 5 days after I gave her pet aid & she was amazed her dogs wounds healed.Her sister works in a vet clinic & was so impressed apparently she has taken it into the clinic
Thanks from down under
absolutely no infections 06/03/2017
My wife and I have been using Hemp-EaZe now for a few years and love it very much. The most amazing experience came here in Palau with the Hemp-EaZe Pet Aid and a baby chicken.
The baby chicken got abused by a really mean hen and had the back of it's head pecked so bad that there was nothing but skull and neck bones showing. I have never dealt with anything like it before, but knew we needed to keep it from becoming infected. I took the Hemp-Eaze Pet Aid and sprayed the back of the chicks head and it turned out that the chick calmed down and liked what I was doing. I kept this up once a day for a couple weeks until it became apparent that I could treat it at longer intervals. The chick actually seemed to look forward to the treatment and calmed way down each time. The wound healed amazingly fast with absolutely no infections.
The chick turned out to be a rooster and there is no sign of the wound being visible at all today.
Hemp-EaZe for my pets and also on myself 11/19/2016
Hemp-EaZe for my pets and also on myself. Our Chihuahua got in a scrap with out jack Russell and got a torn ear. I have applied the spray and it is healing so well, I am amazed. I have used it on myself when I get minor scratches from the animals or our holly bushes and it is really nice.
Remember to use it 06/12/2016
one of our cats seem to be having a curious issue with the pet spray. If I put it on her twice a day, she is the happiest feline in the world. Her hair grows almost completely back within 4 days, and I am sure it would continue if kept up, The issue, though, is that I forgot to put some on her for a few days, and then the days when she goes outside and doesn't come back for a couple of days. The hemp eaze will last for about a day-ish it seems, and then the itching comes back like a craze like never before. It's like the hemp eaze does such a good job that when its not on her anymore, she goes nuts and licks herself into a rash and red skin.
Heals burns 01/19/2016
Our dog was seriously burned on her front left leg Aug. 4, we used Hemp EaZe & you can't even tell it happened! Her fur has completely grown back & scars have healed
Andrea
Work great on bug bites and itchies of all sorts. 10/19/2017
Recently we used it to good effect to help in healing a bad cut when one of our dogs got when tangled in a bit of barbwire. It's nearly healed though it was a nasty cut.
We also use the Hemp-Eaze for pets, both on them and on us. Work great on bug bites and itchies of all sorts.
Very Healing 12/18/2015
its working great on my cat's wound. She's been calm and relaxed since I first applied it. I'm convinced! In just one day I'm seeing less inflammation and redness in her wound. She's adjusted to having it on so she's not licking it off right away. I got it on her 3 times yesterday and once so far today.
Perfect! 10/18/2015
Oh! I have to share!  My Son scraped up his leg at the Skate Park, I grabbed Pet Aid and with 4 days of use (actually noticed it calming down the skin with first application)the area is healing nicely!!
Thank you!  We are so grateful for all that you do!
Joyfully,
Karen
Dogs love it!  07/31/2014
Nancy writes;
Their Pet first aid spray is the only product that I found my dogs love. It does stink, if they lick it it's safe, stops bleeding! I will give it 5 stars
Janene's Dog can walk without a limp now because of the Hemp-EaZe Pet Aid!  07/31/2014
Janene Mulley
thank you I love every product,my dog is walking free without a limp & women at school are going onto your page to have a look.
Again many thanks,bless you
Jes-ca gets tail wagg'n approval!  07/31/2014
Jes-ca Brandt
My nephew dog has had red, inflamed, hot to the touch under belly skin and the vet told us he's allergic to something so we changed his food, we switched his bath soap we even changed laundry detergent trying to relieve his tum tum. But to no avail, none of it worked.
He was always licking it trying to get relief. That's when I decided to try your spray and boy does it work wonders. No more itchy tum tum. It's turned back to his normal skin color and he's not constantly licking anymore. Plus he gets excited when I pull out the spray bottle n ask if he wants a sprits. He gladly puts his front feet up for a spray.
You will find Hemp-EaZe™ Pet Aid First Aid  Spray here,
https://tierrasolfarm.com/shop?olsPage=products%2Fjkggydd0ma&page=2