We continue this healing journey with the creation of the Original Hemp-EaZe™ Tattoo Balms.
We have been able to keep branching out and reaching more people to help because of the many positive testimonials that our happy customers continue to give us. Over the years and to this day, people share their stories and help others gain confidence to try a sample. These are just a few.
Hemp-EaZe™ Tattoo Balm, personal size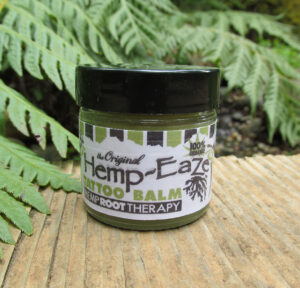 lovin it  01/19/2018
Go green with Hemp EaZe, I did, and my tattoos are lovin it
Great stuff! 11/10/2017
OMG! I swear by this product….I used this balm for the first time yesterday after I got home and washed my new tattoo….amazing! Discomfort almost disappeared and all oozing stopped! When I woke up this morning and got outta the bed… There was NO stiff / tight – hurting skin like last time!!!
When I had the outline first done for this tattoo a month ago it was excruciating getting out of bed every morning because the skin was really tight before I set foot down …no problems this morning
I saw it before my very eyes 04/09/2017
I saw it before my very eyes, the power of the Tattoo Balm on tattoos. This little balm,not only brightened up colors in existing tattoos but took ALL pain away, from new tattoos, WOW!
The older tattoos really POP after applying balm. The colors, the detail, even the black comes out like new again. My friend has a tiny-little tat he got over 20 years ago & everyone, including me, thought it was a butterfly. After he applied the Tattoo Balm it POPPED!
This was a not a butterfly. It was a skull with wings, how very cool. Even the colors in the wings came out clean, just like it was new again. If you have even 1 tat, you've got to try this Tattoo Balm. It's also very inexpensive, lasts a long time, too. A little bit goes a long way & lasts all day. To either relieve pain, moisturize or bring back old tat's.
Thank you Darcy, for making such an awesome product line. You are an amazing woman. It's truely a miracle. Pam/Rhino
Yes, it really works  11/08/2016
We love this stuff. It's the best thing we have ever used for healing tattoos and healing in general.
Good Stuff 10/07/2016
I received my Tattoo Balm and Therapy Cream today so I'm applying that. I have to say, the healing has been MUCH shorter than predicted just using the little samples that I have. Such good stuff. J
You will find the Hemp-EaZe™ Tattoo balm, personal size here,
https://tierrasolfarm.com/shop?olsPage=products%2Fuutofp612e&page=2
Hemp-EaZe™ Tattoo Balm, pocket size reviews –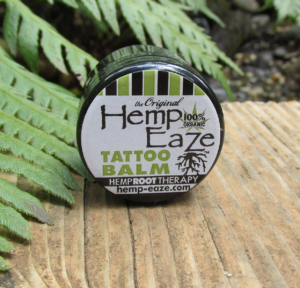 Andrea says, " here's the kicker, my 6 day old tattoo almost completely healed!  05/31/2018
Andrea Brown
TATTOOED??? LISTEN UP!!!
I am using this (Hemp Eaze) on my latest tattoo (which I got 6 days ago).
Hemp Eaze has not only kept my tattoo protected, but it has kept it soothed and moisturized. And believe it or not, this tattoo (of the 7 I have), is the only one that has NOT ITCHED AT ALL.
And here's the kicker, not only is my 6 day old tattoo almost completely healed, but this product can also be used on older tattoos to bring out color/vibrancy of the ink….
OH! And did I mention it's 100% Organic?? I HIGHLY RECOMMEND Hemp Eaze for tattoo healing and maintenance. Thanks Jason McAlister for this awesome birthday gift!!!!
Best choice 10/19/2017
I've been using Hemp Eaze tattoo balm on my fresh ink… I have to say it works awesome! Does the job it's supposed to, plus it applies much nicer, with an easier more-viscous consistency, than A&D ointment or Aquaphor.
Great for Hives!  08/16/2017
had severe hives to the point of bleeding infected and bruises from scratching and ‪Hemp Eaze tat balm cured me!!! Will be ordering more when I have the funds. Love your products!
thank you! Nothing else has worked for hives. I tried everything!
quickly healing 05/10/2017
I quit smoking July 22, 2013 and there's a place on my lower lip where the cigarette stuck to my lip and continually pulled the skin off.. it has been year and a half and still does it. The other day I found my tat balm (labeled for tattoo s) and started putting it on my lip… it's almost healed and I shit you not.!!!!! When I get my insurance check im mKing a order.!!!!!
Next time from the beginning 01/30/2017
Thought I'd let you know…..
Got those two jars of Tattoo salve back at Xmas, and gave one to each of my kids for the tattoo that was also part of their present. When my daughter got hers, a week later it was itching like crazy. She hadn't been using anything on it except the packet of A&D you get when you get tattooed, and she hadn't put any on at all that day. I told her to go and get the Hemp-eze Tattoo stuff and put it on. She called me later that night and thanked me, because it had instantly stopped the itching and the final stage of healing had already commenced. Next time, she says she'll use it from the beginning…….
Healed in one week  10/19/2016
Besides being the Publisher/Owner of NUG and other businesses I also tattoo.
So I got my wife to let me finish her 1⁄4 sleeve a few weeks ago and give the Hemp EAZE tattoo balm a full run through to heal her new ink!
1 WEEK! It cut her healing time in half! it show's the Ink well and it's just good aftercare 09/29/2016
During my Tattoo Apprenticeship here in Farmville, VA. I used both the Healing Cream and, on later projects, the Tattoo balm. I've been adamant about using it, and give it as a gift to ensure the skin heals the way I want it to. It's a genuine regeneration catalyst, and the ink holds in the pocket while the surface of the Tattooed area recovers.
I use it on my tattoo's regularly years after, because it show's the Ink well and it's just good aftercare. D.J. Ownby
Quick and easy healing process 10/28/2015
This is the best thing my husband and I have used for healing tattoos. It really makes for a virtually itch free, quick and easy healing process.
Try it all of you that have not.  06/10/2015
This product heals, and helps the human complex system work the way it's supposed to ‬
This stuff should get 10 stars! 07/31/2014
john B.
This stuff took the heat and throb away in seconds! felt like new skin, tat is healthy. I pass it around to all my peeps.
You will find the Hemp-EaZe™ Tattoo Balm, pocket size here,
https://tierrasolfarm.com/shop?olsPage=products%2Fd1maj8wmoc&page=2
---