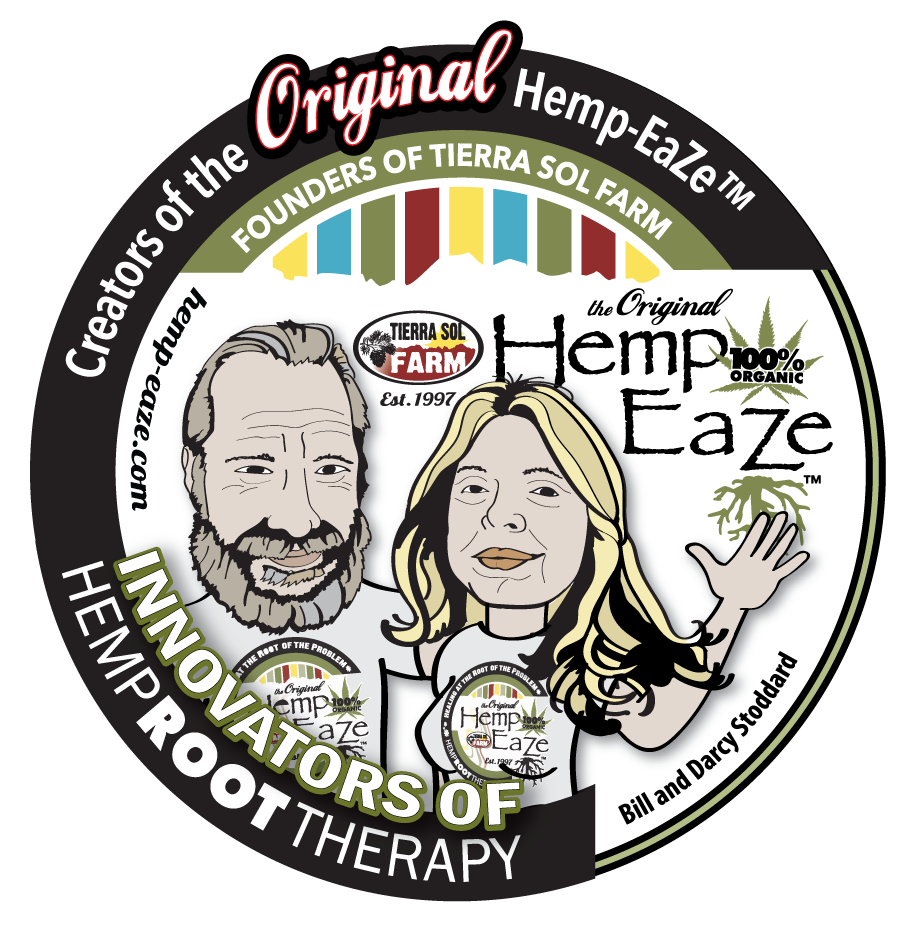 We began this healing journey with the creation of the Original Hemp-EaZe™ Therapy Cream.
We have been able to keep branching out and reaching more people to help because of the many positive testimonials that our happy customers continue to give us. Over the years and to this day, people share their stories and help others gain confidence to try a sample. These are just a few.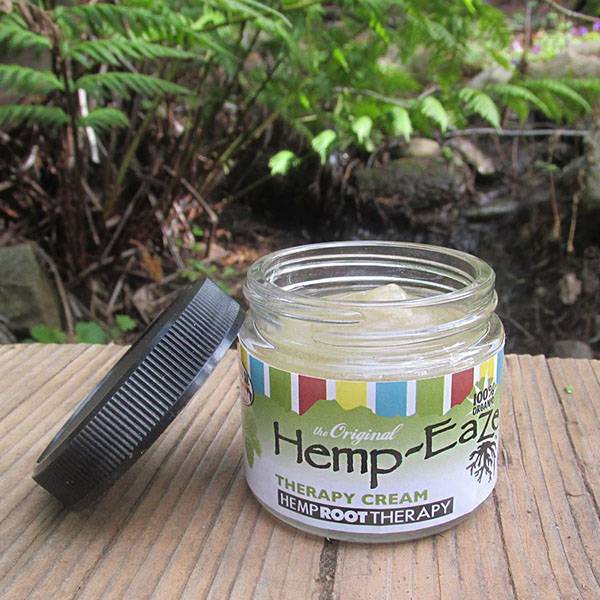 Neuropathy 5 stars 03/19/2018
I suffer with Neuropathy, some days I can't pick up anything with my hands, they're just too sensitive. But I am finding relief when I massage Hemp-EaZe Therapy Cream into my hands and feet before I go to bed.
Mosquito Bites and acne 5 stars 01/19/2018
my grandchildren and I use Hemp-EaZe Therapy Cream on our mosquito bites. There's no more itching. The next day the swelling is gone. My daughter uses it for her acne
Helps with swollen joints 5 stars 10/19/2017
My Husband He's worked construction all his life and because of it the joints of his fingers are swollen and sore. His Doctor has prescribed all the latest medications but they only have made him ill, and he's still suffering. I rubbed a sample into his hands and explained how Hemp-EaZe works. Later he returned to buy a jar, telling me he could feel the relief.
Helps age spots! 5 stars 09/25/2017 My daughter shared her secret about the comfort she has experienced after using Hemp-EaZe on her arthritis, now I just discovered that Hemp-EaZe Therapy Cream works on my age spots!
Heals eczema 5 stars 10/19/2017 I have had eczema for years. I used Hemp-EaZe Therapy Cream for three
days and it's gone!
A must for the medicine cabinet 07/19/2017
My girlfriend is a single mom with two rambunctious children who are always getting cuts and bruises. She's had trouble finding a cream that her children are not allergic to. Hemp-EaZe Therapy Cream has fit the bill. She uses it on their bruises and diaper rashes, mosquito bites, everything! She says she recommends it to all her friends. I'm using it too!
Great for degenerative bone disease 07/11/2017
Dear Tierra Sol Farm, I have a degenerative bone disease, the swelling and pain keeps me from getting sleep. But with a good massage of wonderful Hemp-EaZe Therapy Cream, I am able
to rest peacefully through the night.
A snowboarders friend 06/20/2017
I am an avid snowboarder, but I get bruised and sore after a weekend of fun. I have tried everything to help with the pain. I don't like taking pills. Also, I can't stand the smell of muscle creams. Then I got a jar of Hemp-EaZe Therapy Cream. I used it on my bruises and they went away in a day!
I massage Hemp-EaZe into my sore muscles and the next day I am limber. This is my favorite product. I use it every day.
Instant relief 12/19/2016
Dear Darcy, Hemp-eaze is an amazing product! I am still awed at the instant relief I get from my aches and pains. Keep up the good work and I wish you great success in your efforts.
Best regards, Ann
Heals fast 10/31/2016
There are so many great testimonials now. I have another. I had a small, but very irritating skin tag forming just under my breast, right where my bra goes around. I used Therapy Cream twice a day for a week, and it is gone! Hemp Eaze for the win
Fast service, great products! 08/07/2016
just thought I should mention, I got my package and within 4 days from ordering, I can finally make a fist with my tendon-damaged hand.
Thank you so much for creating this product!
Got her Dancing 07/19/2016
The Therapy cream seems to really be helping my moms joints and i believe its helping
change her views on ways of healing herself. Seeing her dancing to a best of motown music concert on television minutes after applying it was priceless.
Amazing product!
 07/09/2016
BigHempy Joshua McGuire
Just used the therapy cream on my hands so I could get back to work writing. I love how when I get to hurting I can simply put Hemp
-Eaze on my hands and put my gloves on and it is back to work I go. Thank you for such and amazing product!
Healed my injury as well as a rash!
I'd give it 20 stars if I could 05/12/2016
I started using Hemp-Eaze, some years back, because of a rash that I get every year when the seasons change. I was using it 3x a day, on my arms. The rash started to clear up within about three days, but within that same week an amazing thing happened. My right arm was injured in a car accident some 3 years before I found Hemp-Eaze. I had hung upside down by my shoulder for some time, and no amount of therapy was helping the fact that the muscles in my arm were not softening from shoulder to forearm, it was very painful. I'm a guitar player, and was devastated because I was losing my right arm. After using Hemp-EaZe on my rash, for the first time since the wreck, my muscles softened and the pain began to diminish. I was amazed! I have used it for several years now, and my arm muscles are pliable again. I also have used it on my tattoos, and it begins to heal them within 3 days! It's great for dry skin, chapped lips, sore muscles, rashes, tattoos. Seriously great product, Carol
Nothing I have taken or rubbed on has worked, except for Hemp-Eaze 04/01/2016
I recommend Hemp-eaze to many of my friends and family, it's good stuff. Pulled my back out, and was walking the next day, nothing I have taken or rubbed on has worked, except for Hemp-Eaze works great and really does last. All the best Try it!
If you are in a NON-mmj state, you can still heal topically!!
I have used hemp root therapy for years.
As a topical, it is FANTASTIC!!
I use it cold 03/08/2016
I've been using the cream (cold from the fridge) 3 times a day for a week now. I am totally amazed! I've had pain in the two scars since surgery 15 months ago. Now the pain is diminishing! I still have the numbness from the nerve damage where they cut into my leg but at least it doesn't hurt! I'm still using it hoping the swelling in my foot reduces, who knows it may even fix the numbing!
Anyway, thank you for this amazing product! I will use it forever! Best Regards, Dave
A MUST in Our Family! 04/30/2016
MUSTS in our family:
– Sports injuries – mostly surf; bruises from rolling in the surf with your board, sore muscles after paddling too much, little cuts on your feet from winter rocks
– Acne – teenager puts a light layer of salve on problem spots after thorough washing, and always after some "picking/popping"; does an AMAZING job of keeping problem areas clean and clear
– Ingrown hairs – help to heal them fast and painlessly
– Eczema: body butter to keep active areas hydrated and salve to keep infections away
– dry feet: body butter!!! 1000% both for summer barefoot dryness and winter dry-air dryness.
– stress shoulders – a nice massage w Therapy Cream!!
– salve – my now 9-yr-old allows ONLY your salve on her cuts, scrapes and general injuries. Swears by it and tells everyone she sees with injuries they need to try it, and shakes her head when they use anything else, Lea
Good Stuff! 03/13/2016
Bought a jar a year or two ago. Can' t remember exactly what for, but my husband and I keep going back to it. My husband hurt his shoulder and it's helped with bruising and I just broke my little toe this morning. After icing it down, I applied Hemp-Eaze Therapy Cream, covered it with a band-aid then taped my little toe to the next one. Yes it hurts because I banged it incredibly well, but I know this cream will buffer the damage and speed the healing. Ordering another jar today as we seem to be turning into klutzy older folks 🙂
Therapy 08/28/2015
Another great product. Non greasy so you can put it on and lay down. Surprisingly worked on my knee cap that swelled up after a hiking fall. Which I had X-ray'ed that turned negative with only arthritis. (59 yrs of age). Put this on consistently and top and bottom and was back hiking in 4 weeks. Have some on hand for those sore days. Need I say more.
love it !! 05/16/2015
I started with the free sample to see how well it worked on my psoriasis and it helped immensely. So I stepped up and bought a real jar and use it for everything. Thank you for working with this amazing plant and for allowing us to benefit from it.
On a side note the personal service is awesome, after my purchase I received a nice thank you email that was directly from the owners and not some auto generated email. I loved that.
Excellent Anti-fungal Cream 05/16/2015
Works great for Jock Itch and Athlete's Foot fungus. Cleared it up and prevents new outbreaks. I'm now trying it on some toenail fungus. Thanks Darcy and Mr Darcy!
Best I have found for pain. 01/11/2015
I stand on my feet all day and get a sore hip, rub this on and pain goes way. I recently fell while working on my shower and hurt my knee and ankle, this helped with the pain. I take and mix this with a little bit of massage oil and heat it up, spreads a lot better I also order it for some friends and she has heart problems and he has arthritis in his hands. He rubs it into her feet for better circulation and than rubs into his hands. Both benefit from the use. Great stuff. If I have any questions Darci is great about getting back with answers.
Kristan's Hemp-EaZe Therapy Cream review 07/31/2014
Kristan writes;
Kristan Hinson Hargrove
We love the fact it's not greasy, it go's on smooth and doesn't leave behind a slick sticky feeling or have an odd chemical perfume odor like other lotions or oils. It smells and feels so GOOD! We can take comfort knowing it's all natural and healthy!
I told Mark We need to add Hemp Eaze to our monthly shopping list.
Now that we have tried it we CAN'T live without it!
I'm hooked on Hemp-Eaze! 07/31/2014
Kristan Hinson Hargrove
The smell of Hemp Eaze is so uplifting! ( we just got done applying some to our joints) I think they all work as aromatherapy too!
The aroma is not overpowering and is so natural!
I'm loving it! I'm hooked on Hemp-Eaze! Thank you, friend, so much for providing such a wonderful product! I look forward to buying more next month! ((((HUGS))))
Hemp-EaZe Has replaced practically everything in my medicine cabinet 07/31/2014
Tera Sol wrote;
I have been using Hemp-EaZe Therapy Cream for several years. It helps with rash, arthritic pain, bruising, lumps and bumps and even headaches!
Hemp-EaZe Has replaced practically everything in my medicine cabinet!
I give it 5 stars
I give Hemp-EaZe an 'A' for the Bee 07/31/2014
Canna Root King Writes:
While working one day, I went to take a bite of my lunch when a yellow jacket swooped into my mouth as I began to bite down. Damned thing bit the roof of my mouth! I grabbed it and squished it! The pain in my mouth was instant, the roof of my mouth was swelling and closing up. There I was out in nowhere with no emergency kit! Then I remembered that a jar of Hemp-EaZe Therapy Cream was in my truck. I rubbed some in my mouth, didn't taste bad at all, a nature taste to it. I tried not to swallow or get much saliva so that the cream could do it's job. Right away the pain was gone, within 8 minutes the swelling was gone! so I went back to work, Great stuff! I give it an A.
Therapy Cream Review – Carol Kelly 07/31/2014
The Therapy Cream is just the BEST all around stuff to have in your medicine cabinet. I have used it for SO many things, and it never fails to amaze me. Here are some of the things I've ysed it for: Rashes, tattoo care, deep tissue injury (muscle atrophy) from an old car wreck, back ache, arthritis in my hands, wrinkles around my eyes, bruising, headeaches, toothaches (yep, toothaches), cracked skin, cuts, headaches………I could go on, but what I'm saying it, get some. You need to have this on hand all the time. I've never known anything that worked so well! For anything!
Oh!!! And is 5 stars as high as we can go? I'd like to give it a bazillion stars!
Hemp-Eaze has replaced everything I used to use. 07/31/2014
I'm getting older and found myself having to turn to things that used to be in my mother medicine cabinet…whew. Then I met Darcy and Hemp-Eaze Yippy!
I keep it in a draw within reach in the bathroom for All those "personal" needs which is really helpful. I keep it next to my bed and in my purse. I'm going through menopause so it's just right for all my skin needs as well as aches and pains!
Thank you Hemp-Eaze THERAPY CREAM! 07/31/2014
I'm the guy with MS that asked you for two samples (one for me and the other for my step-dad). Sorry I didn't get back to you to provide you with my testimonial. I am Pleased to type that this product was more than what I expected. Like majic. So much that I have recommended it to total strangers Jonathan Zepeda
A Loyal Hemp-EaZe customer writes; works well as a deep moisturizer for the face 07/31/2014
The Therapy Cream works well as a deep moisturizer for the face and for skin that is a bit more sensitive,
Canna Root King shares his Story About how Hemp-EaZe took his scar away 07/31/2014
Canna Root King writes; I was ripping off a sheet of roof sheeting when a piece of plywood slipped that had a 1/4" nail point sticking out underneath, when I pulled my hand out it ripped 1/4" groove into my skin from my wrist to the middle of my thumb nail. when I got home, rubbed Hemp-EaZe on it a few times and it healed up and I forgot about it. So it ended up with this big long scar down my thumb.
So a year or so later, I'm rubbing a mosquito bite near the scar and my wife said why not use the Hemp-EaZe to help get that scar out. So I rub it on 2 or 3 times a day,I wasn't always faithful, but regular. I decided, as an experiment , I would leave an inch of the scar untouched, Just to see how it would turn out. I was amazed, I could actually see the scar disappearing, I rub Hemp-EaZe Therapy cream ( The only product I need for everythnig) All it took was two weeks! There is no indication of where the scar was! No indentation, so redness, no line!
Kenneth Loves The Hemp-EaZe Therapy Cream for quick healing burns 07/31/2014
Kenneth Ideas Writes;
This stuff is the bomb! I do fire performance and get burned frequently. Someone have me some of this stuff and I've never had a better burn salve yet. It cooled the burn instantly and healed it up in a day or two.
Kandi Loves the quick healing she gets with Hemp-EaZe for her diabetic ulcers 07/31/2014
Kandi Johnson Grow
This stuff is the Bomb! I'm a diabetic, so i get diabetic ulsers on my legs… they are very painful by the way, and without this they take forever to heal! I use this and they are gone, within 4-5 days, without it would be 4-5 weeks to heal!
Cancer Patient finds relief with Hemp-EaZe Therapy Cream 07/31/2014
Queenladyoftheasphalt Original FlyGal ·
I am a cancer patient and also have severe neuropathy. I have tried your products and THEY WORK! a friend blessed me with a jar and I have to share! THIS REALLY WORKS AND HELPS SO VERY MUCH!
What have you got to loose if you dont try it? Thank you so much Hemp Eaze for your products and for improving my life.
Kristan Loves it even for her Chickens!! ***** 07/31/2014
Kristan Hinson Hargrove
Even my chickens agree! It has helped so many of our little roos from where they fight and tear up their combs! It even helped sooth one of our chickens painful red skin issues!
Can't figure out what was causing it, she cme to us like that. But it was making her very irritable! We rubbed some on her comb and a little on her face and for the first time since we got her she finally relaxed and fell asleep in our laps and has been content since!
Hemp Eaze is a BLESSING! And we will continue to use it! I can't say enough on how truly WONDERFUL Hemp Eaze IS! IT"S THE BEST EVER!
To just say The Hemp-Eaze The Original Hemp Root THERAPY CREAM Worked is an Und
Annice Holland 07/31/2014
I ordered the therapy cream, to just say it worked is an understatement.Wow!
Got ot for my husbands shoulder pain. Not sure how thats doing yet. Let me tell you this, two things…First I had a burning peice of plastic stuck to my finger,dont ask how it happened, I should know better.Put out the fire under water,peeled off the plastic from my finger.
So thinking now I will have to go thru the burning pain for a while,but didnt I read that this Hemp-EaZe is good for burns AND pain.
Just got it in the mail day before… Put some on the burn. It stopped the pain right away,and no blister or any trace of a burn. Thank you Darcy for making this great product and sharing it with us. For people with rashes due to candida, this stuff is awesome!!! All the redness and pain gone…been fighting this for years.
This all sounds too good to be true.It is for real, I am sharing this because I know a lot of people suffer in silence. Hope this helps someone.
Becky Says- Woohoo, 07/31/2014
Becky Haines shared Rivers in the Ocean's photo.
Woohoo, That Hemp Eaze knocked the pain and swelling right out of my shoulder~ Best night sleep I've had in a week, heading out to the Chiropractor, I usually opt for acupressure, closest I can find in this area, and my insurance approved 8 sessions :))
Marie's Doctor Wanted her to op for Surgery, She Chose Hemp-EaZe Therapy Cream I 07/31/2014
My Dear friend from High school called me this morning. Marie told me that a while back she tripped on the curb, fell on her hand and broke her wrist.
After the doctor took off the cast, he spoke of surgery, saying she will have limited movement and arthritis otherwise. Marie told him she'd think about it and went home and started her Hemp-EaZe regiment.
She'd warm her wrist with warm water, then dry and rub Hemp-EaZe Therapy Cream in, then wrapped her wrist with a supportive wristband. That's all she used. Right away the pain was gone and within a few weeks, she was pulling weeds. When she returned to the doctor, he was amazed at how quickly she was recovering from such a complicated break. Hemp-EaZe! "Healing at the ROOT of the Problem".
Lydia LOVES Hemp-EaZe for her circulation! 07/31/2014
Lydia Decker
I'm absolutely loving mine! Using it for circulation in my legs and I sure wished that I would have taken a pic before I started using it. The color is straightening out and looking better, so I know that the circulation has to be getting better! YaY!! LOVE THIS STUFF!!
The Kale Leaf Health Coaching highly recommends Hemp-EaZe 07/31/2014
The Kale Leaf Health Coaching Practice shared your photo.
Hemp-EaZe is Seriously Amazing. I use it Regularly on My Sore, Tense Muscles and Anytime One of my Family Members Gets a Booboo. You Can Order it From Their Website. www.tierrasolfarm.com
Kristan's finger was saved by using Hemp-EaZe 07/31/2014
Kristan Hinson Hargrove
I have been using Hemp Eaze on my finger since I got it stuck in the chair. I did like your suggested and soaked it in water to break loose the blockage. My finger started to drain a little more then stopped a few hours later. The swelling went down in a couple days. It's still a bit swollen around the cuticle but my cuticle is finally growing back. it's no where near as tender as it was. I can bend it more but still not as well as I used to. I don't know what I did but the knuckle is still sore and not bending all the way. I wish I'd thought to take pics of it when I hurt it so I could show the world the difference Hemp Eaze makes. I am thankful for your product. It works miracles! I'm still using it on my finger. It helps better than any thing else! Thank you so much! As soon as I can I 'll be ordering some more! I can't live with out it! And it works wonders on bug bites and cold sores! I can't find any thing that Hemp Eaze can't help with! It's THE BEST!
Hemp-EaZe Therapy Cream for Periphrial Vascular Disease 07/31/2014
Lydia Decker
Hemp Root for healing! I've been using this on my legs, Diagnosed with PVD (Periphrial Vascular Disease) and those of you who know me, have seen them. I've been using the Therapy Cream now for about 2 weeks and what a change.
The color has definitely straightened out and looks much better. It does help with Circulation, Swelling, Muscle Aches or Sore Muscles and Joint Pain.
I'm a Believer because it's working for me! For more information about Hemp Root and it's healing benefits, click here, www.hemp-eaze.com
Many Hemp-EaZe users are helping others with their concerns 07/31/2014
Shannon Walker
So on Monday I will be having some incisions. I'm positive the Dr. will not recommend Hemp Eaze but would you? I'll try to call you tomorrow. I need some advice.
Carol Anne Kelly
Absolutely! Hemp Eaze reduces swelling, and promotes new cell growth. It's the perfect thing for incisions. It will definitely help with healing, and prevent scarring.
July 26, 2013 at 12:04 PM
Senior citizen has found relief in 3 days using Hemp-EaZe! heres Norma's progres
07/31/2014
Carol Anne Kelly
My 87 year old client, Norma, went for her first Physical Therapy session today, to try to relive the pain she's been experiencing for over a year, since her last fall. With her PT's blessings, she is having a Hemp Eaze rub twice a day.
Day 2 – Norma says, "Maybe I'm crazy, but I don't think my arms hurt quite so bad today." Apparently, last night she did 20 reps, on her arm pulley, (a first), and she was a little sore but she knew the difference between that and her usual pain level. Less wincing with movement, today. AND, when I rubbed HE on her arms, neck, and shoulders, her neck ligaments were definitely a little softer.
Day 3 – Physical Therapist says that there IS already improvement in Norma's range of motion, and the feel of her muscles in her pelvic area. Physical Therapist also asked for website, This is at Enloe Rehabilitation Center. What they WERE using was just coconut oil, and beeswax. I gave her my pitch. lol . Go Hemp Eaze!!!
Hemp-EaZe Therapy Cream brings a musician atrophied muscles back to life 07/31/2014
Carol – About 10 years ago my husband, and I, were in a terrible car accident that we shouldn't have walked away from.I hung upside down in my shoulder harness until cut out with the jaws of life. My right arm was never the same. The doctors said there was nothing to be done, as time went on it got weaker. This was heartbreaking, as I am a guitar player, It was getting to where I could barely get through a song without my right hand cramping up, terrible shooting pains would go all the way up to my shoulder. It looked like my picking days were over.Then one day, I came across Hemp Eaze. I had an awful itchy rash, on my arms, that nothing was working on. I bought a jar of Hemp Eaze because it said it was good for rashes. 3 days later, not only was my rash gone, but I was also experiencing some softening of the muscle in my arm that was damaged, and atrophying, to my amazement, my arm was back! something the doctors said would never happen. OH!! And I'm still playing my guitar!
Hemp-EaZe Therapy Cream for Daily Relief 07/31/2014
Christie Reeder O'Brien
Hemp-EaZe Therapy Cream! You are part of my daily routine
Men Love Hemp-EaZe for their irritated skin because of shaving 07/31/2014
Kristan Hinson Hargrove
Mark shaved for his job interview this morning and he looked Sooooo GOOD thank to Hemp Eaze!
Thank you Hemp Eaze! Marks face was so clear and smooth for his interview today! No red rash or blotchy spots or dry skin!
Hemp-EaZe- Best Medicine for Burns and irratated skin! 07/31/2014
Julie Marlene Spicer
I put it on my lips at the dentist the other day, before & after.
I love Hemp-EaZe it's the greatest…. I call it, "A miracle worker".
Still amazed at the cellular rebuilding after getting burned.
The root is fascinating and evidently does not contain THC or CBD, but a potent 07/31/2014
Matthew Hammeett writes;
The root is fascinating and evidently does not contain THC or CBD, but a potent anti-inflammatory. I recently tried Voltarin Gel and while I think it worked, there is no doubt that your product worked. I am familiar with the other herbal ingredients like lavender and Lobelia and understand that the total cocktail has an effect.
One unique thing about your formulation is that it IS ODORLESS. This is very important. I have found Tiger Balm as a mixture of camphor and menthol working in synergy as a 100 year+ old remedy to be better than anything on the OTC Rx counter shelf. Your product offers the ability for someone to go into a workplace and not fume it up like ben gay and have to deal with that, while still obtaining noticable and significant relief. I used it for muscle spasms in my calf and on my back (as recently as yesterday).
Hemp-EaZe Therapy Cream is the BEST treatment for burns and blisters! 07/31/2014
Mary Lou Pizzio-Flaa
I used my Hemp Eze on the blister yesterday morning and again at bedtime and it is GONE!!! No residual passion or anything.
5 stars for Burns! and skin Cancer Prevention 07/31/2014
Garden Ionics
September 3
I got a sunburn on the side of my face which I had a pretty nasty skin cancer on. I quickly put on some Hemp Eaze and it is a lot better today. I'll continue to do so for a few days to cut down on the possibility of any more melanoma skin cancers in that area.
A simple solution to aches 07/31/2014
BigHempy Joshua McGuire wrote on your timeline.
October 31, 2012 at 5:31pm
Just used the therapy cream on my hands so I could get back to work writing. I love how when I get to hurting I can simply put Hemp Eaze on my hands and put my gloves on and it is back to work I go.
Thank you for such and amazing product!
Hemp-Eaze Sample of Therapy Cream 07/31/2014
Hempmehempyou
Member
Posts: 1
Hello,
I purchased the sample amount of Therapy Cream and loved it. To receive the sample I only had to pay postage. The consistency is similar to Carmex. The stuff works. I had some eczema on my fingers, I applyied the balm and it started working. I also put some on a sun spot on my mothers arm, which has seen some improvement. Our concern is that it could be skin cancer and it has taken the swelling down. I am ordering the full size Therapy Cream and am amazed at the potential benefits.
Badly Burnt Hands are successfully healed using Hemp-EaZe 07/31/2014
Chico HolisticHealthcare wrote on your timeline.
August 6, 2012 at 2:24pm
Badly burned both hands and multiple fingers last night. I have been putting Hemp Eaze on the burns and only got ONE blister out of it; whereas, I should have had several.
Chico Holistic Health Care Uses Hemp-EaZe to treat Diabetic Ulcers 07/31/2014
Chico HolisticHealthcare wrote on your timeline.
December 27, 2011 at 3:27pm
Once again, I have a new patient who has diabetic ulcers. He has tried EVERYTHING to help heal up a wound on his Big Toe… but, the wound has only gotten bigger and deeper. He just finished with his last doctors treatment and is now willing to try anything to save his toe from amputation – as removing the toe was his doctors next option.
I started treating him and in one week, the wound is half the size it was when he first saw me thanks to a combination of NMS and Hemp Eaze. I put Hemp Eaze on his feet his first not only for his toe but because he feet were so cracked and dry all over.
He came back the next day and bought a bottle as he was so impressed with it. This guy is hard sell EVERYTHING – but, just one treatment of Hemp Eaze made him a believer.
Hemp-EaZe For a Toothache? YES! 07/31/2014
Rummy Lane
October 13, 2011
I have tried Hemp Eaze and it worked for me in regards to a toothache. Whether it can 'heal' a cavity, I don't know. It can reduce inflammation and pain, though.
Mimedhead Alterative Medicine says, 07/31/2014
Mimedhead Alterative Medicine April 26, 2012 near Lansing, MI
Means a lot to us that Hemp Eaze likes what we are doing..
They are the first to use roots in a miracle cream.. Thanks
Annice Says, " I would spend my last dollar on Hemp-Eaze. " 07/31/2014
Annice Holland
A miracle in a jar. I would spend my last dollar on Hemp-Eaze.
Melissa is trying out our Hemp Eaze muscle rub right now and Loving it 07/31/2014
Melissa Fitzgerald
trying out our Hemp Eaze muscle rub right now. Loving it.
Feels great and leaves NO funky residue on the hands. Rolled one up right away! No fuss, no muss! Thank you Hemp Eaze for a really wonderful & healing product.
Emilee uses Hemp-EaZe for her Face 07/31/2014
Hi Darcy, Thanks so much! You know it's interesting…I have been using Hemp Eaze original for almost 3 or 4 years now as my face cream. then tone with witch hazel and finally moisturize with hemp eaze. Since I started that routine my acne has cleared up and my face has generally been more moisturized, softer and healthier. Over the last few weeks, I ran out of hemp eaze , so I started using coconut oil which I use on the rest of my body. I thought it would be comparable in the interim, but once I didn't have hemp eaze I more fully realized what I was missing!! Fortunately, I have a tiny lip balm pot that I've resorted to using on my face Hemp Eaze provides long lasting moisture and radiance. I felt like I had to keep reapplying the coconut oil and on top of that I've begun to break out again!!! I cant wait to get back on my regular regime of hemp eaze. thanks so much for inventing such an amazingly awesome product!!! light and love,
emilee
He was off his crutches after about 2 weeks 07/31/2014
Kerri Pinkston
He was off his crutches after about 2 weeks (the doctor said he'd have to use them for about 12) and he'd probably be walking fine if he didn't break the pinky toe on his other foot.
We'll put the Hemp Eaze to work on that black and blue mess too… thanks for shipping out my replacement supply so fast. I have a hunch it was there Friday, but I didn't bother to check my mail until today…
Matthew "I found relief for my back and for a sprain" 07/31/2014
Matthew John Hammett
I recently used a legal root preparation on my back and for a sprain. It did work on both places…but mostly on the back. It is a small product called Hemp Eaze that people mentioned to me and so I ordered some and it seems to work…. I find it to be mild… it is topical only and definitely not for ingestion.
Tim says," 5 Stars for Hemp-EaZe! " 07/31/2014
Tim Higgins
I was chatting with a friend I hadn't seen in years. We started talking about hemp and she said she uses this great product made from hemp. Of course I blurted out Hemp-Eaze! She said how did you know? We have been using it for years.We have used many of your products and they really work.
David said, "I CAN TELL YOU THIS hemp eaze has regenerated new skin faster 07/31/2014
David Coventry Jr. wrote
Recently I had a grillin' accident. I got 2nd-degree burns on 7 out of 10 fingers. I have been using hemp eaze therapy cream and body butter on them. I CAN TELL YOU THIS hemp eaze has regenerated new skin faster and is still healing faster than O.T.C. ointments for burns i.e. neosporine and others that Ive used in the past. To heal wounds and scrapes. In my 36 years of life I have never seen anything work so well. THANKS HEMP EAZE.
10/19/2017
My Mom says Every since she could remember, she's had chronic cracked heals on her feet. Nothing kept them moisturized for very long, but she has been pleased with the results after using Hemp-EaZe Therapy Cream, those deep cracks are finally healing. helps leg cramps
10/19/2017
I have been suffering with horrible leg cramps in the middle of the night, that wake me up. But recently I was introduced to Hemp-EaZe Therapy cream. I rubbed it on my legs before retiring to bed and was able to sleep through the night. I am so thrilled with this product that I am telling everyone at church about this amazing healing cream
Back pain relief 10/19/2017
My Husband Has back pain because one of his legs is shorter than the other. Nothing has helped, not even going to a Chiropractor. But since he's been using Hemp-EaZe Therapy cream, he's been able to get some relief. no scars
10/19/2017
My Mom is allergic to the sun and suffers 'Sun spots" and scaring tissue. She bought Hemp-EaZe Therapy Cream a few months back and reported that her skin is healing and has become soft and supple. good for Arthritis
10/19/2017
I suffer from arthritis. A daily massage of Hemp-EaZeTherapy Cream has made life bearable. Has many uses
10/19/2017
I learned about Hemp-EaZe from a Friend who recommended it. Now my husband and I recommend it to our friends as well. We are very pleased with the speed of healing we are experiencing using Hemp-EaZe. So far we have used it with excellent results for insect bites, cuts, abrasions, burns, chapped skin, softening calluses, and rubbed into the dry skin on our cat, which gave him immediate relief of itching and helped heal his skin as well. The product brochure is very comprehensive, helping us understand the uses for Hemp-EaZe and to recognize how much loving labor goes into the making of every jar. Thank you for such a great product. Whole Baseball Team uses it!
10/19/2017
My son's began to use Hemp-EaZe cream on their elbows and knees, after playing baseball. After feeling the relieve from their stiffness,
they shared it with their baseball team members. The comments were: good for bruises. Helped with sore muscles, helped with knee pain, was used on a sprained ankle, works great. Even soothed skinned elbows.
replaced lydocaine patches
10/19/2017
The therapy cream is amazing. I've been able to replace lydocaine patches I used for
back pain with it. Soooo much nicer than the skin irritation adhesives cause with regular use of the patches and a much better value to boot. 😉 The dog loves the smell too (and would eat it straight from the jar if I let him) which can be embarassing, We look like circus elephants when I walk anywhere because his nose is attached to my lower back where I've applied the cream.
Thanks again, –rick
Helps Plantar Facitis 10/19/2017
You know, I don't know what my poor feet would do without Hemp-Eaze! My Plantar Facitis is killing me, notto mention the blisters, but the Hemp-Eaze helps kill the inflammation and keep my feet moist but not sweaty. You rule Darcy! I've been sharing with everyone to! Including someone
who had a road rash injury! no scaring. plantar fasciitis relief
10/19/2017
Hi darcy Thought I'd take this opportunity to tell you I loved Hemp-Eaze and have applied it to feet and ankles twice a day. This is not nerve pain, as I'd thought, but plantar fasciitis. Hemp-EaZe made a difference, I liked using it and find that when i get headaches around my eyes that using it on sinuses does give some ease. xo Kathy
Need a larger size? Try the Large Therapy Cream – 6 OZ!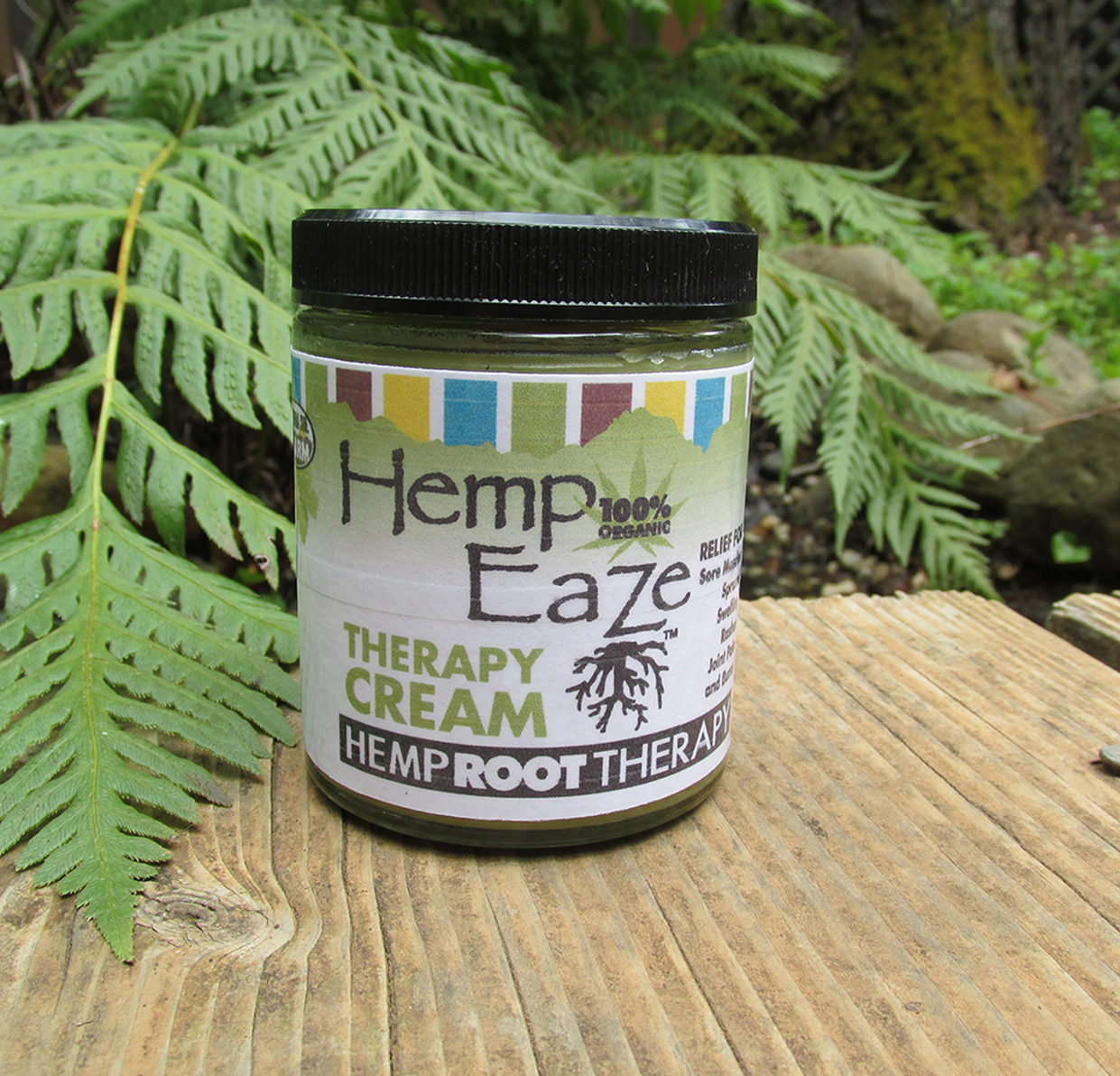 ache is gone! 10/19/2017
I have gotten rid of the pain in my toe since using the Hemp -Eaze We use it on everything!
10/19/2017
Kerri
This stuff, Hemp-Eaze, is pretty darned amazing… I have post traumatic
arthritis in my hands and wrists and first time I put it on my aching thumb
joint, immediate relief.
Tonight, it's on the muscle spasm from hell, (encompassing my entire left shoulder blade,) 5 minutes later I am doing normal stuff… I also think it's why Steve is off his crutches in 2 weeks rather than the 6 to 12 weeks the surgeon said.
Supposedly it works wonders on wrinkles, fibromyalgia and psoriasis. They'll send you a small sample for under $4 so you can try it yourself
help with MRSA 10/19/2017
I love the Therapy Cream. It can do just about anything. It's one of the things that has helped saved me from long lasting after effects
 from MRSA.
joint and muscle pain relief 10/19/2017
I couldn't live without my Hemp-Eaze. It's always my first line of attack for my joint and muscle pain. Give me
 my Dandelion juice and my Hemp-Eaze and I'm good to go!
Hemp-Eaze it really does it!
 10/19/2017
My Pressure Area That I Have On My Left Hipbone Has Shrunk From The Size Of A Half A Dollar To The Size Of A Quarter Since I
Have Been Using The Hemp-Eaze it really does it!
This product is the greatest!
10/19/2017
I have chronic pain from injuries acquired in an auto accident 10 years ago.
HempEaze literally helps me get out of bed on my bad days. I have also lost several jars to my neighbors for treating various aches, pains, sunburn and poison oak. There are so many uses and I try to always keep an extra jar around the house.
Stopped my headache in 7 minutes! 10/19/2017
you know, I was talking about treating head aches with a Hemp-EaZe Rub with my friend Becky and I was remembering the first time I discovered how well the Therapy Cream worked on them. It was my first Cannabis Awareness Day in San Francisco, we had a booth there, and it had been a long morning, cold and sprinkling. This was one of our first shows, so a little nervous and stressful too.
I had just given out some samples and my temple was throbbing. With a dab of cream still on my fingers I gently rubbed that pulsating vein and got busy again, next thing I realized was the pain and swelling was gone! It had been less than 7 minutes!
Great for head aches! 10/19/2017 Becky Haines
I've been getting headaches, I can rub a little of the therapy kind on my forehead, and instant relief
Great for back pain 10/19/2017 The Hemp-EaZe is working really well for my back pain when I have it rubbed in and then apply a heating pad for about 20 minutes. I love the stuff
Helped my back 10/19/2017 Karen Hersh writes;
thank you fo your creme.your product has helped me so much.. i dont wear that
girdle type elastic brace anymore my back will be an on going problem- but at least i can manage it now-i try to keep moving around and work on my meditations but your hemp-eaze has helped so very much and i have spread the word too you are wonderful and i am so glad we connected that being said- i like the larger jar i like the constancy it.
carpel tunneling pain was all gone 10/19/2017
Last night my Hubby put on Therapy Cream on 1 of his hands & wrist but not the other, he has MS. When doing his legs & almost in 15 minutes he could tell, no pain in the hand that Cream was applied to. The other hand & wrist was complaining it got none so he applied to other hand & carpel tunneling pain was all gone. When he told me this we were laying in bed & I was wondering to myself…Am I the only 1 who can feel the healing power of your products, is it all in my head? Then Hubby told me of his unintentional experiment with hands. This is wildly great stuff. I am still so excited here in IL."
thank you thank you 10/19/2017
I have been using the Hemp-EaZe ointment and also eating the hemp root for nerve damage to my leg stump from where my leg was amputated. I had been pretty much spending most of my time in a wheelchair but after about 6 weeks of treatment I am now able to walk again with low levels of pain and no pain most of the time. I am still getting gradual improvement with no
negative side effects.
Thank you, thank you thank you Kind regards. Billy
Hemp EaZe for edema 10/18/2017
Today, I started my newest senior client on Hemp EaZe for her edema. Her poor leg is SO swollen, and hot. I put it on twice. Once in the morning, and once this afternoon. By the time I left her, she said that it must be working, because for the first time in two weeks she was unaware of it. Meaning the pain was gone! It didn't look quite so angry, either. She was pleased, and wants her own jar now. She will keep using it. *spreading the word, one senior at a time*
Worry Free 10/18/2017
just to be clear..‪Hemp-Eaze is made in Cali!!!! A USA product!!! It is made of the Hemp Root and other all natural goodies. And just like it says on the jar "Cannabis Root has studies that have been done that prove it kills staph infections" I as well as others I know use this for shingles with great results!!! For me that kept me from sitting in a hospital for days having all kinds of drugs pumped into my body….something that I do not have the time or the money for!!!!‬
Thank you! 10/18/2017
Omg,pain gone ,sleep finally from this wonderful salve ..i felt incredible relief within 15 min.and it lasted all night from just one application!!
Thank you! 10/18/2017
Last night, I got all comfy and cozy to go to sleep. All of a sudden I felt my left calf start to get a cramp. I rolled my ankle around thinking it could just be my ankle needing to crack and my calf got tighter. I thought to myself, "this is going to become a charlie horse". Nothing worse than being woken up by a charlie horse. I sat up and reached for my therapy cream. After 5-10 minutes of rubbing therapy cream on my calf, the cramp was gone! Still finding wonderful and new ways yor products work. Love you for creating the Hemp-Eaze line! Your faithful friend, ‪Danyelle‬
That stuff is amazing and it truly goes a long way!
10/18/2017
I ordered a sample of Hemp Eaze and got it in a flash. I had a bump on my temple that felt like it had a fingernail poking out of it. My husband is a MD, so I asked him what it was. He said it's an AK (Actinic keratosis). I could not scratch it off, he said let's burn it off. Nope, I used your product. At first, I could feel it sorta drying the area and getting smaller. About 2-3 weeks in the bump swelled up got kinda wet and nasty, I kept up the twice a day application. It went back down. Then the area swelled up again, but not as much. I kept applying it twice a day. Finally, it flattened out, but I felt a large grain of sand feeling under the skin. I still applied the hemp Eaze until it was completely gone and another 2 weeks for good measure. The brown patch of skin where the AK has also gone away. I can't praise your product high enough.
Performs & Works
 10/18/2017
Introduced to me, after surgery from a fall, required a 10″ titanium rod installed at left arm humorus and a reverse shoulder replacement on right arm. Optional warming of balm to a liquid state before applying relieved so much pain. To.have a product that actually works by making life smoother …
Even the simple moisturizers are with me in the Caribbean every year. And "no" I'm not affiliated with this Company. . It just plain and friggin simply Performs & Works
This entire line of Products perform exactly as touted
Whether for a pain, a moisture, or a conditioning all, these natural products "rock ". Seriously, this family has their products "dialed in"
MIRACULOUS!! 10/18/2017
My 86 year old Mom needs a knee replacement she cannot get. I've been using this on her for 2 years…NO PAIN!!
Bring It! 10/18/2017
I am recommending it to all my friends this magic cream. I did try it by luck last month. And I am hooked now.it helps with My leg stiffness and nerve pain. Bring it , Yes Root on. Easy to order. it works with Sciatica pain tooooooo. Just try it on. Take ur charge of ur pain:)
This stuff works better 10/18/2017
This stuff works better than the prescription cream, Voltaren, on old damaged, arthritic hands
Simply Wonderful 10/18/2017
It seems we have had our share of cuts and bumps lately, I guess so we ourselves could know first hand how simply wonderful Hemp-EaZe truly is.
Saved the day! 10/18/2017
My Daughter hit her knee bam major purple bruise! She reached for the Hemp Root Therapy salve.. the bruise didn't go through the usual ugly yellow purple painful healing period. So awesome!
Great for relief! 10/18/2017
I use the Hemp-EaZe Therapy Cream daily. Back pain, any muscle, shoulder pain. Any cut. Love it.
Immediate Relief! 10/18/2017
When I woke up Sunday morning from snowboarding, my knees, glutes and lower back were really sore. After rubbing some Hemp-Eaze on the sore spots I got immediate relief as well as no more sore muscles/joints today!!!!
Hemp-EaZe is the only medicine that worked. 10/18/2017
Several years ago I twisted my knee playing basketball and it never seemed to heal, there was always issues with swelling and dull pain behind the knee cap, I tried everything to no avail. Then I read this article in countryside magazine about you and how you healed with your herbal formula and thought I'd give it a try. I was amazed, In only three days all the pain and swelling disappeared! It was incredible! Hemp-EaZe is the only medicine that worked. Your longtime customer, Atlee
Thanks for your great product. 10/18/2017
my husband has three kinds of skin cancer caused by Agent Orange Exposure in Vietnam. He had full scalp wounds and patches and his hair was falling out. Got some of the Hemp EaZe Therapy Cream. Used it 2 weeks and his scalp nearly cleared completely. The big patches are little dots. And, bonus, his hair is growing back. Marsha
Thank you 10/18/2017
Anyone who has had this knows it is very painful. This morning I rubbed some Hemp Eaze Therapy Cream on my left big toe and foot, and almost immediately the pain lessened. It is a few hours later now, and still comfortable. Thanks so much for bringing this to us all, and thanks to God for creating it….for every disease He made a cure, and this blessed plant covers many.
Love your stuff! 10/18/2017
the other day, a friend was stung by a bee and i had some Hemp-Eaze in my truck… he was amazed.. took the burn away instantly! Shari
It works! 10/18/2017
Living in a state where cannabis is illegal?
Try some Hemp-Eaze!
It's a topical from hemp roots and it WORKS amazingly for pain and inflammation!!
I have been using Hemp Root therapy for years
Thanks for giving me my mobility and life back! 10/18/2017
Just wanted to say that I LOVE your Hemp-Eaze! I have three slipped discs in my lower back that they say are not bad enough for surgery. Instead it has been a battle with pain killers and two procedures that wore off after about 14 months. Since using the Hemp-Eaze I have had relatively little back pain and am once again able to function as a normal person and not a zombie. Thanks for giving me my mobility and life back!
Fire Ant Bites – Gone! 10/18/2017
We have been using Hemp-EaZe for several years are are always surprised to find another healing use. My wife got into the fire ants and had 4-5 bites. Fire ant bites feel like acid and produce a blister that lasts for weeks. The pain usually lasts for a few days. She decided to try it out after nothing else worked. It worked immediately and within 2 hrs.the pain was gone. re-apply a time or 2 more over the next 24 hrs and no blister, no pain. Spread the word – Thanks again! Joel
a product that has never been touched by a corporation's anything. 10/18/2017
Shelley Furgason says – hemp-eaze , a product that has never been touched by a corporation's anything.
We're proud to be involved with Bill and Darcy and Hemp-EaZe
I feel like I know like a little secret but not one I want to keep…you know? I use hemp-eaze for so many things its become second nature when something happens I automatically go for it and when I'm out it drives me nuts.,
I'm proud of the fact that the ingredients are natural so I don't worry about side effects or any negatives really and that makes me confident to recommend it. The fact that it really does work helps with that too. Its reliable!
It's like it cares about me! Unlike big pharma over the counter ointments or creams that all smell crappy.
It's Pleasant and reliable! Something I can turn to like a friend when I'm in pain…
The bigger size is so economical! 07/31/2014
Kathy shared;
I love the bigger size it's so economical and great for the bigger tasks.