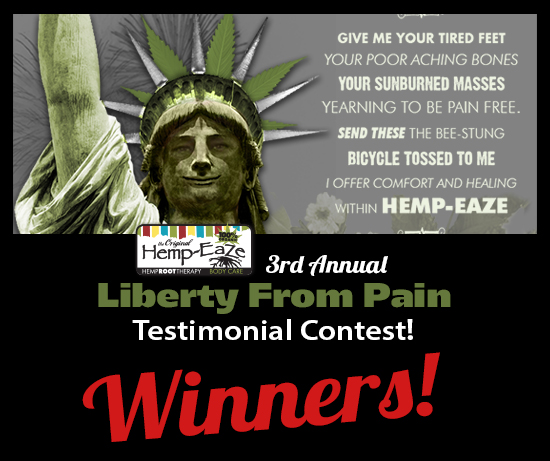 The Hemp-Eaze™ 2015 Liberty from Pain Facebook Contest Winners Announcement!
---
First Prize
Harmony 'n Peace
Greetings and a Happy 4th to all! I'm a little bit late in posting here as it has been a crazy week, but better late than never. smile emoticon Darcy, this (in part) is the video I mentioned a while back and had not gotten around to finishing. I added more testimony to it so that I could post it as my Liberty From Pain Testimonial entry in the contest. It looks like there have been some pretty awesome entries thus far! ☯&☮
https://www.youtube.com/watch?v=LEyFiKQGeNY&feature=youtu.be
---
2nd place
Jacqueline Simon Federico
I apologize in advance for the lengthy review of your Hemp Eaze Root Therapy Cream! I don't even know where to begin on my story! You see my medical and pain history is big as a encyclopedia! I guess I'll start from the beginning and leave a few things out! My body started to fall apart literally when I graduated from college in 2001! When I was in college I was all that and a bag of chips! I was very active in many student organizations and I was very healthy. Since then I've had 20 surgeries and almost died four times! I've had my colon removed bc it well died, my gallbladder bc that died too, all my female organs at three separate surgeries, my small bowel and stomach paralyzed itself so I needed feeding tubes with another tube, I get bowel obstructions every six months like clock work, I've had two cervical neck fusions in which one didn't fuse! I had to have it redone and ever since I've had about six pain injections including my nerve endings just burned twice on my lower and upper neck! I also have severe fibromyalgia, severe intertractable migraines that temporary paralyze my right side that if not controlled I go into the hospital! I also have pain in my SI joints, piriformis muscle, and hips!
So, With all that being said I've tried everything and anything to deal with my pain. From creams, hot packs, cold packs, and meds! You name it I tried it. It got to the point that I couldn't even get out of bed and do my daily activities. My mind was telling me to go go go but my body was like nope it's not happening! So, I decided I had to try out Hemp! I met Kevin Spitler through our Blockwatch group and decided to check out the Toledo Hemp Center! I just recently bought the Hemp Eaze Root Therapy Lotion!! Omg I love the stuff! I so wish you sold it in TUBS!!!!! This stuff is the bomb! I rub it all over the areas were my pain is such as my neck, my headaches, SI Joints, hips, or anywhere else I have pain! I literally have less pain that I can walk, sleep, and EVEN DANCE (yes I was twerking in my living room bc I was so happy) without out wanting to lay down after 10 mins. Oh by the way I love that it doesn't smell like BEN GAY that smell would just give me a worse headache and make me nauseous and stinky!!! So yeah thanks for giving me comfort in my life so I can finally enjoy it!!! Kevin thanks so much too!!!
---
3rd place
Sandee Kean
On January 18, 2015 my 14 year old son and I were involved in a horrific car accident. We slid on black ice and after spinning several times my SUV flipped 3 times and smashed into a tree. The SUV came to rest upon the passengers side and was smoking. My son and I had no choice but to climb out of the drivers side window. When the EMT's and firefighter's arrived they were in awe that my son and I had survived such an accident and many times we were told that we were walking miracles. We had many bumps, bruises and some cuts and we both had concussions. After going home I got out my Hemp Eaze Body care lotion, Massage oil, Body butter and Therapy cream. My son and I used these products daily and they helped out immensely with our bumps and bruises and even with our headaches. In March I went to get out of bed and I couldn't stand, walk, sit or even lay down without extreme pain. I had to call 911 and I then spent the next few weeks in 2 different hospitals. I have never felt so helpless before in my life. I couldn't get out of bed to use the bathroom and had a very difficult time sitting up to try and eat. After several MRI's, CT scans with contrasts, many tests and even sacral joint injections I was diagnosed with Intractable Back Pain due to Sacroiliitis. This is a very painful and debilitating disorder that I will live with for the rest of my life. I have my son faithfully apply the Hemp Eaze Massage Oil to my sacral joint area 3 times a day followed by the Hemp Eaze Therapy Cream and I must say it works wonders. A Great Big Thank You To Hemp Eaze for their amazing and wonderful products and for making my life so much more pain free  🙂
---
4th place
Jim Clark
I purchased my first jar of Hemp-Eaze a little over a year ago at the Toledo Hemp Center owned at operated by Kevin Spitler. I used it immediately on my knees and ankles. Im a large guy and these joint ache alot. Shortly after trying and becoming a believer myself I told my Dad about the products. He didnt believe me. I purchased a jar for him to try on his knees. He has artificial knees and has arthritis in various areas. I think he looked at the jar for a week before trying it. I got a text randomly from him later that said something like "wow! I thought your full of sh!t" !! He became a believer and gave it to my mother to try on her degenerative hip. She said it worked incredibly and she got the best sleep shes had in years after trying it. Now they share their stories with their friends and our extended family. I use it on my 3 sons bug bites, rashes, scrapes, ect. We are a Hemp-EaZe family.
---
5th place
Robin R. Lais
I am covered in Hemp-Eaze!!!!!! NO more knees and back pain now!!!!! Right on to Darcy Stoddard and the folks with this amazing natural healing, all made in the USA company!!!! ~~~~~~~~ heart emoticon heart emoticon heart emoticon ~~~~~~~~ I think I will call it a day for now and finally be able to get those healing zzzz's I so tried to find last night!!!! Much LOVE!!!!!
---
Weston MacMillan 
I have used Hemp Eaze for sore muscles, arthritis, and now for healing my latest tattoo! I have been very happy and impressed with this fantastic product in the past but when it came to healing my tattoo and alleviating the discomfort and pain on the first day I have been completely hooked on this product and will always use it for every tattoo I get from here on out. My tattoo even healed from what appeared to be a little faster than the other ones had in the past .
---
Dixie Boyd
There are many accidents that go with my uses of Hemp Eaze.
My temples for headaches
My back (2 discs grinding)
My feet neuropathy
WORKS INSTANT for me
My veriocst veins
Mosquito bite stings
I do so wish I could lounge in a big tub of Hemp Eaze.
I thank Darcy so much.
Great product.
---
8th place tied
Lynne Allan Windsor
HempEaze is great ! I have fibromyalgia and arthritis and use it to ease joint pain and sore,achy muscles from fibro flares . I get the relief I need without having to resort to meds !
AND
Danyelle Green
I was introduced to Hemp-Ease Therapy Cream a bit more than a year ago by Kevin Spitler.
It is the most amazing cream ever! Not only does it help with my husbands back pain, it helps when you sleep wrong and have a kink, it has helped so much with my recent sprained ankle. Put it on and within 20 minutes the pain is gone.
I have also found it is the BEST face cream ever! My skin is so soft, wrinkles diminished, and no more black circles under my eyes.
I also love the lip balm. Softest lips.
The massage oil is a newer favorite go to for achy backs and legs.
And my 3 dogs LOVE the pet spray!
I wish I could have vats of Hemp-Ease!
Love this brand!!! 🙂
---
9th place tied too!
Tara Troutman
I've had chronic pain and fatigue for about nine years now, starting from my time in the United States Air Force. Through the years, I've searched for things to provide lasting relief for my condition. I've tried many different topical products to help improve my quality of life but they did not come close to the amount of lasting healing I have received from hemp-eaze. Recently, I have started working again after being unemployed for four years. My heels and ankles began to have pain from the change. Within just a few applications of hemp-eaze the pain was completely gone.
I also have extremely tight and hard muscles and tendons all over my body from my time in the service and a lot of other manual labor. Some of my muscle knots, trigger points, are so hard that they even deflect needles that are trying to be inserted into the muscle knot. I've only been using hemp-eaze for a few weeks now but I have noticed that my overall pain and tension is not at all what it was before. I've also noticed that I have more energy and even appetite after applying the hemp-eaze. When I exercise, I have much more endurance and the pain and soreness afterwards is nothing compared to what it was before.
The hemp-eaze body butter has been incredible for healing sores and other areas that had trouble healing. Within just one application I was surprised at how the body butter had taken out all the swelling on a sore. The body butter has worked wonders at healing blemishes.
The hemp and lavender oil has been a true blessing as well. It literally provides instant relief of pain, tension and anxiety in my body.
I am so thankful to have discovered these products and will be using them from now on. Thank you all.
Marie Clark 
she says;
Use it nightly.. Got some for a man I know with back pain.. Now his with with MS uses it too!!
Thanks for getting me my first jar Jim Clark!!
---
10th place
Annice Holland
I discovered Hemp-Eaze a few years ago when I clicked on an ad on a page I was reading about The healing properties of Cannabis. I had to read all of the testimonies. I was impressed. Before Hemp-Eaze I have never used any kind of natural herb salve. Really,this stuff is amazing. We have used it for so many things. I don't know how it works so fast but it does. i dont think I shared this yet, I know this is for pain, but I believe it also gets rid of infection This is for the Therapy Cream. Maybe Darcy can say something about that. I mean like under the skin infections, like sinus infections, you just rub some Hemp-Eaze on your face where your sinuses are,like across your nose, under your eyes and cheek bones. Don't just put it on there, massage it 
in.It
 worked for me several times. Maybe use like a quarter tsp. It doen't take much. I could fill up a few pages on how Hemp-Eaze has helped us. Wish I knew about it when my kids were little, for all their bumps and bruises. One more thing, I noticed no one talked about, It smells really good.
---
Drew McGinn
I believe hemp-eaze tattoo balm is the best thing to use on tattoos, new and old. I will be using hemp-eaze tattoo balm on my tattoos from now on. The special blend of organic ingredients really makes healing quick and easy.
My fiancé uses hemp-eaze to help with her chronic pain and the results have been remarkable. She has not found another topical treatment that compares to the real healing that hemp-eaze produces. We are so thankful to have discovered hemp-eaze.
---
and honorable mention to
Todd Paige
Hemp Eaze is the Best Product I've ever tried or used for healing/reducing Scars/and eliminating Bruises and Black an Blues I recommend that everyone tries at least once to see for themselves that this product really is Amazing and truly works for everything! wrinkles and bags under your eyes? eliminated! scars? reduced if not gone completely! Bruises healed much faster than with other ointments/Salves? Tattoos hardly any scabbing
Please, Please, You've got to Try this miracle Product!
and
Julia Lambert
Omg my sons eczema is so bad right now and the only thing he let's me put on him is hemp eaze .. he literally screams and freaks out with anything else but the hemp eaze soothes and doesn't burn or sting his skin .. it really helps hydrate and absorbs into the skin and really helps his itch.
---
Entry # 12 Drew McGinn had 9 likes,
Entry # 11 Annice Holland had 10 likes
Entries # 13 Tara Troutman and
Entry# 2, Marie Clark Tied with 12 likes,
Entries # 6 Lynne Allan Windsor and
Entry# 7 Danyelle Green also tied with 18 likes,
Entry # 4 Dixie Boyd had 20 likes,
Entry # 10 Weston MacMillan had 24 likes,
Entry # 3 Robin R. Lais had 25 likes, winning 5th place!
Entry # 1 Jim Clark had 39 likes, winning 4th place!
Entry # 5 Sandee Kean had 54 likes, winning 3rd place!
Entry # 8 Jacqueline Simon Federico had 75 likes, Winning 2nd place!
Entry #9 Harmony 'n Peace had 147 likes, Winning 1st Place!
Thanks for a Fantastic July Everyone!
---