~Darcy Stoddard
Hey girls! howz it go'n?
o.k. our trip by the Waters Edge!
We started out traveling across the lower foothills over several ridges to the South of us, around lake Oroville, across the old highways, passed little forgotten towns  like Forbestown, Frenchtown and Brownsville, into Black Bart's territory, where he'd ambush stage coaches. Winding through a gulch called Bullards Bar Dam, we made it to Old Highway 49 and up to Downieville and the Riverside Inn.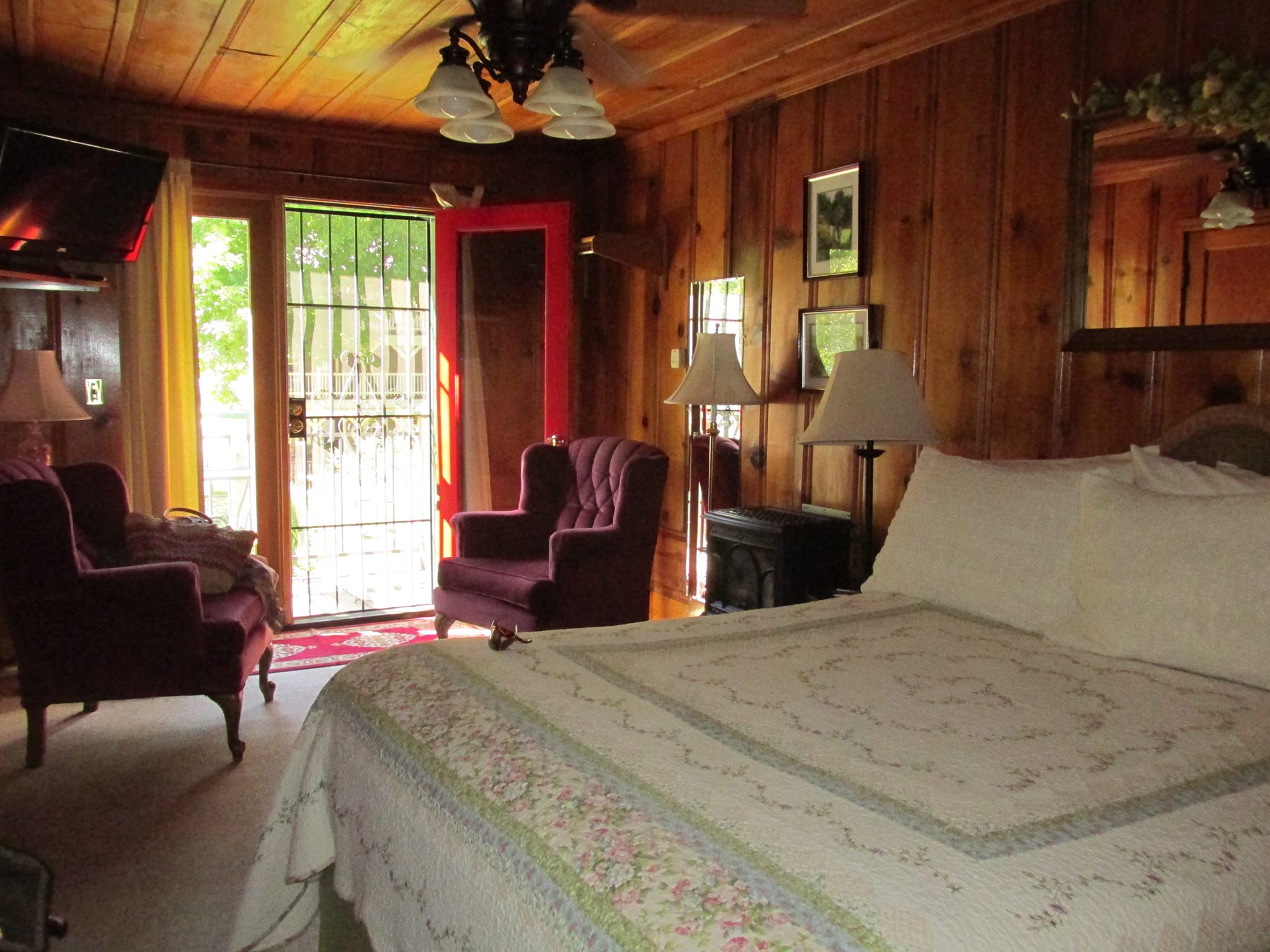 Here's our room, sweet huh? Right outside that door is the Downie river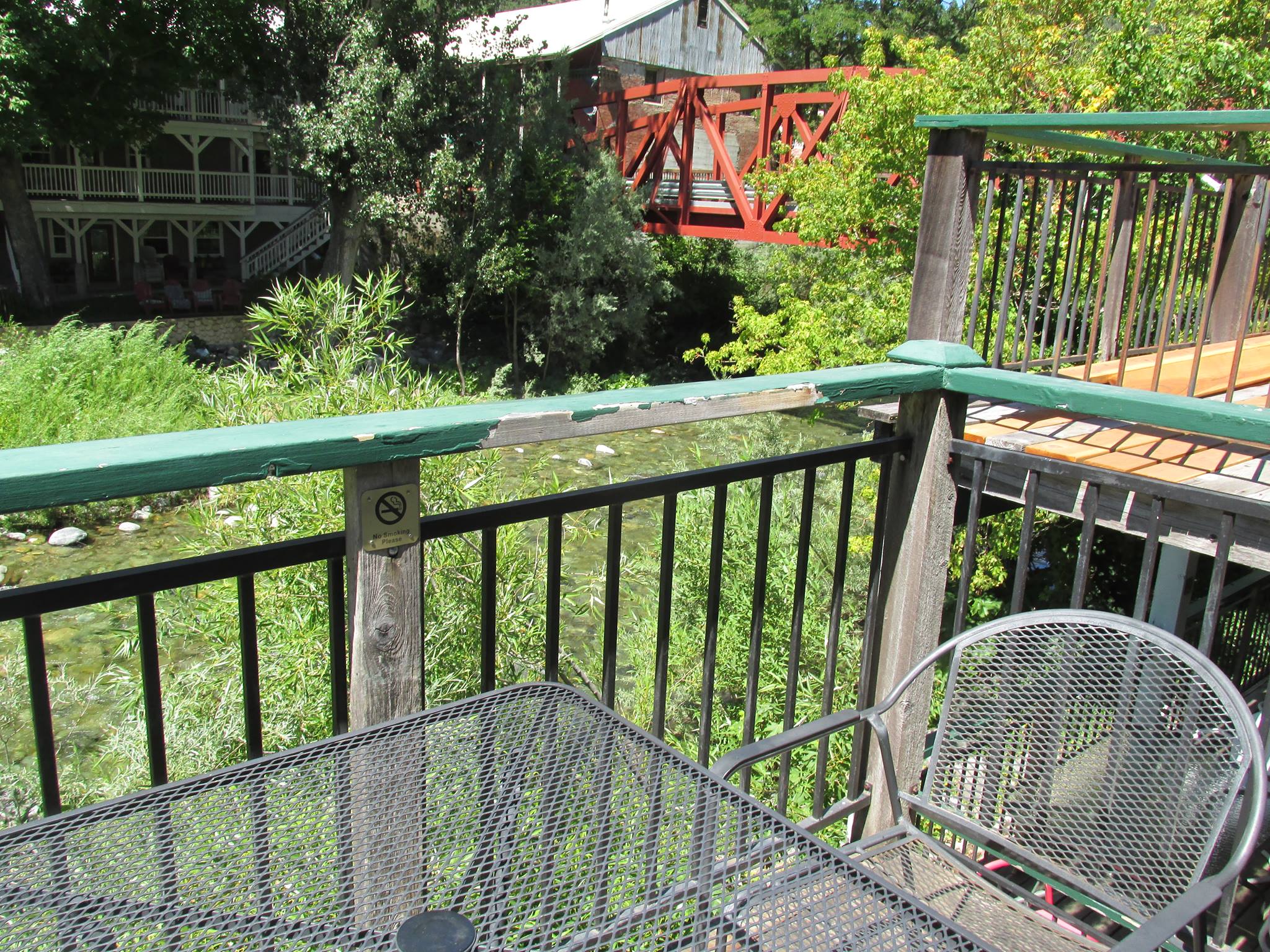 Here's our view from the Balcony to our right..See the Downie River below.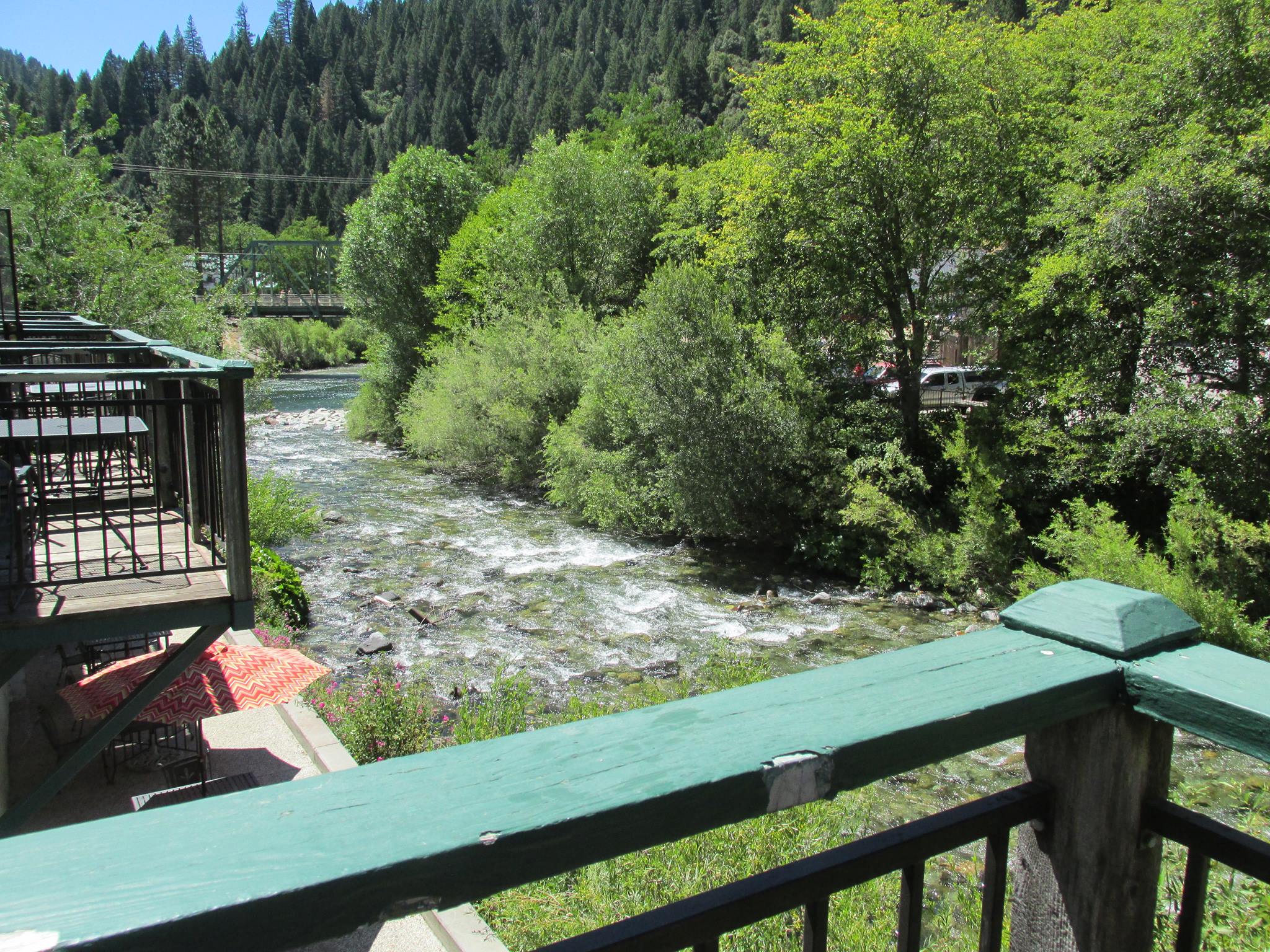 …and to our left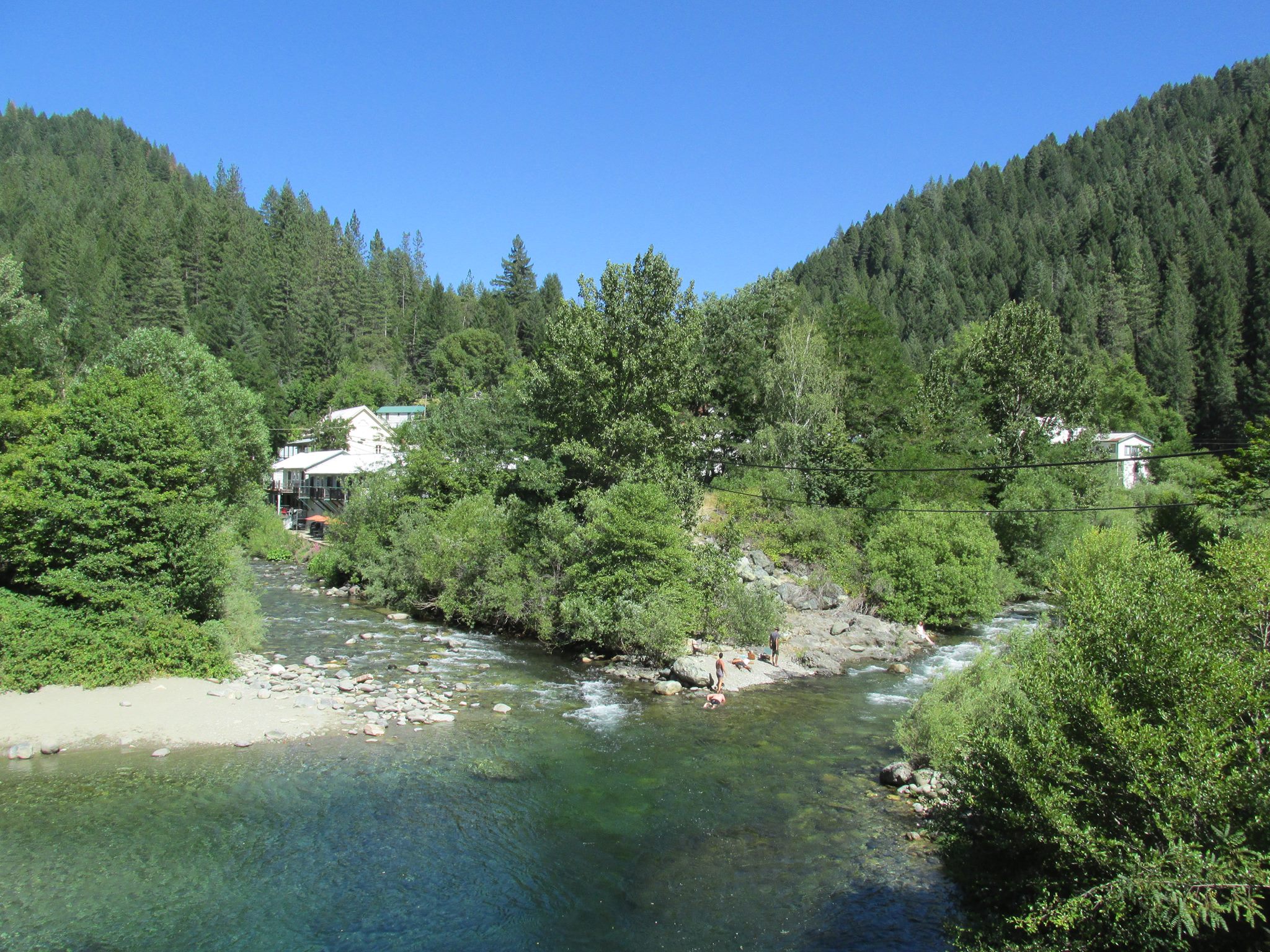 Later we went to the green bridge and took a pic showing the two rivers, the Yuba and the Downie river meeting, just a small walk from our room. There's our motel there, I can see our room!

Now here's a morning shot from that little beach area. So beautiful and wow were we lucky! A cool breeze blew thru the canyons and it seemed to never get over 80 degrees!
So then we were told there were 4 bridges in this little town so we decided to investigate!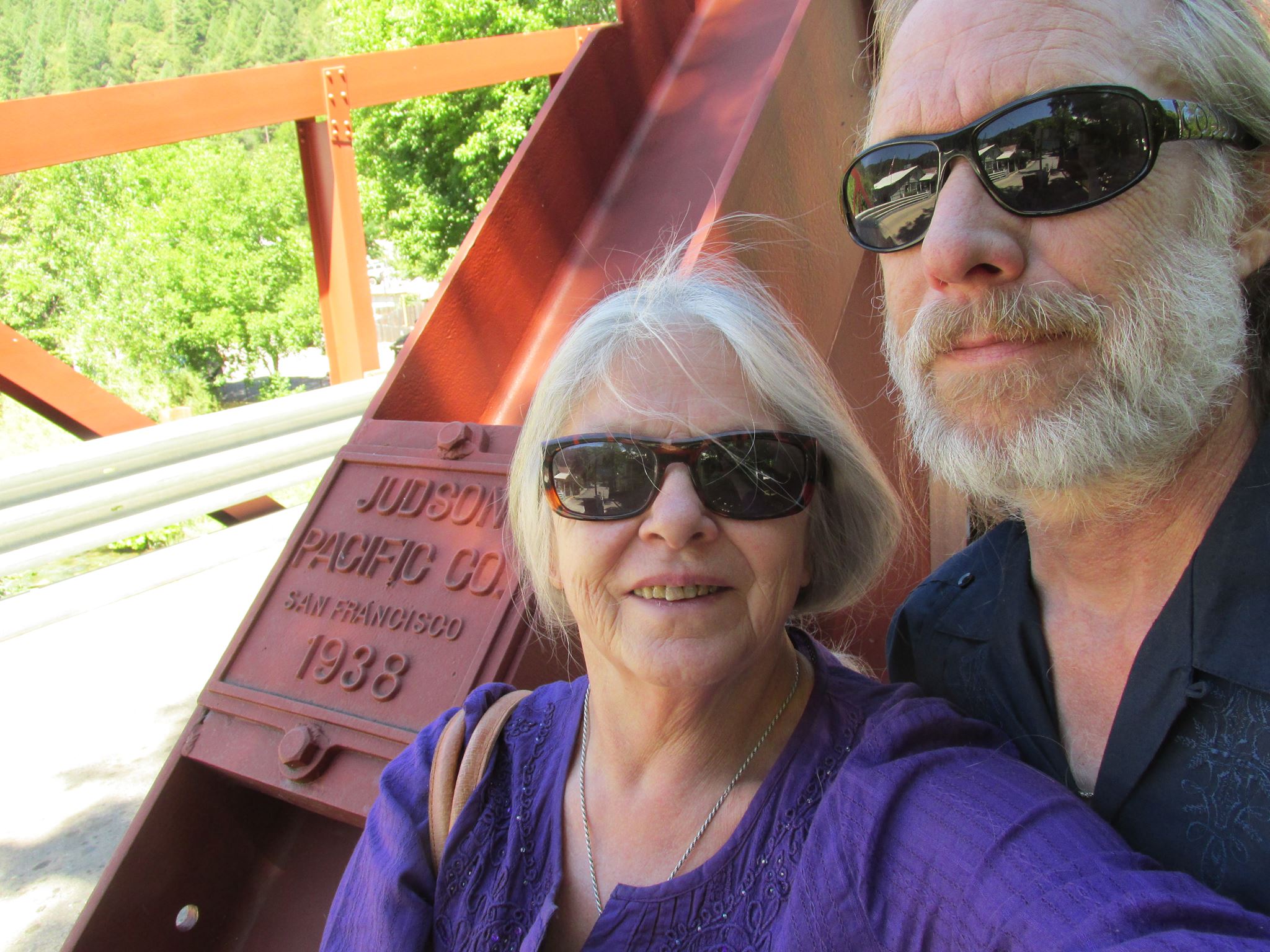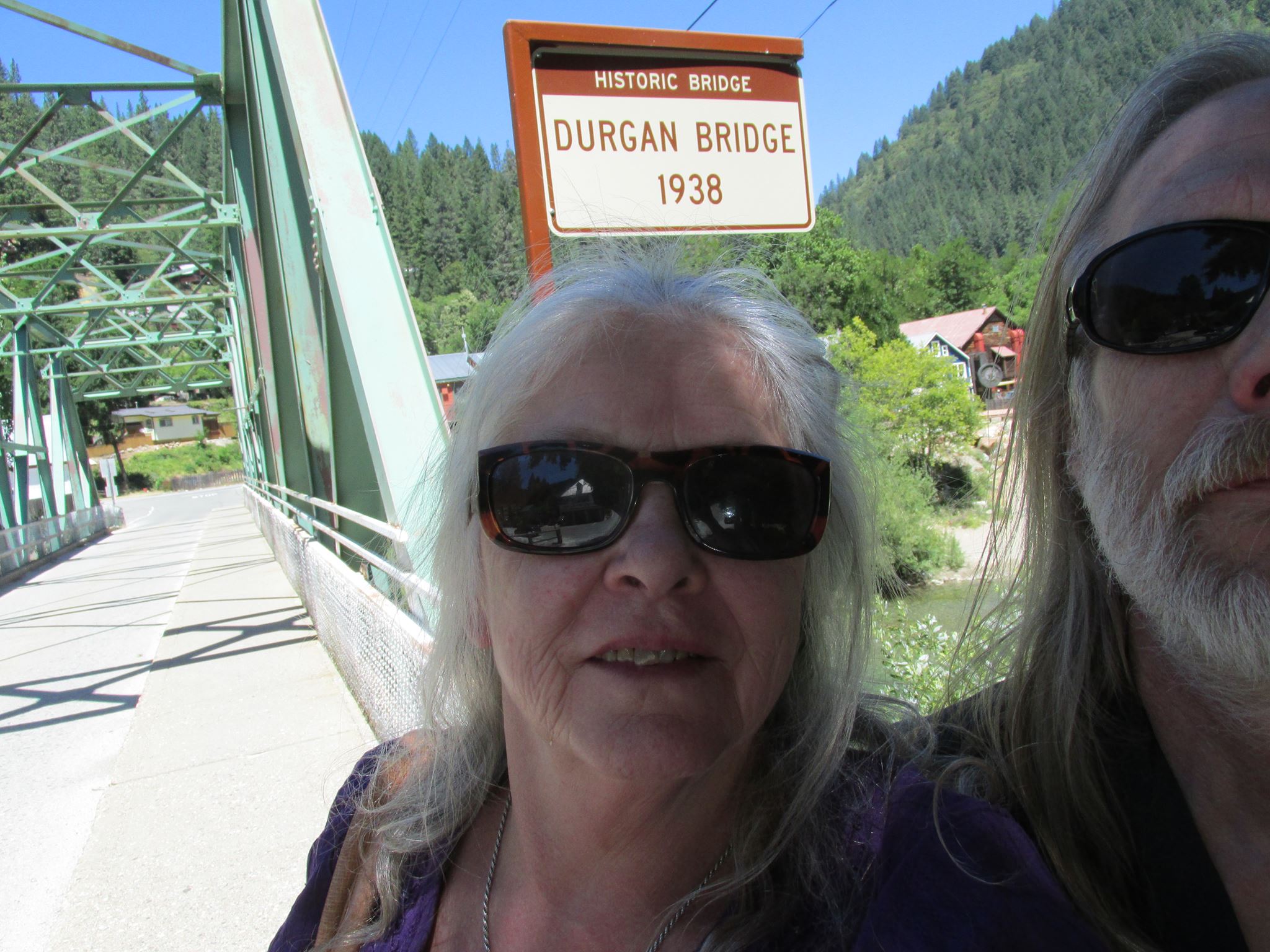 This one shows the beauty around all of this, tee hee… plus my beauty there leaning on the railing of course.
Cruising downtown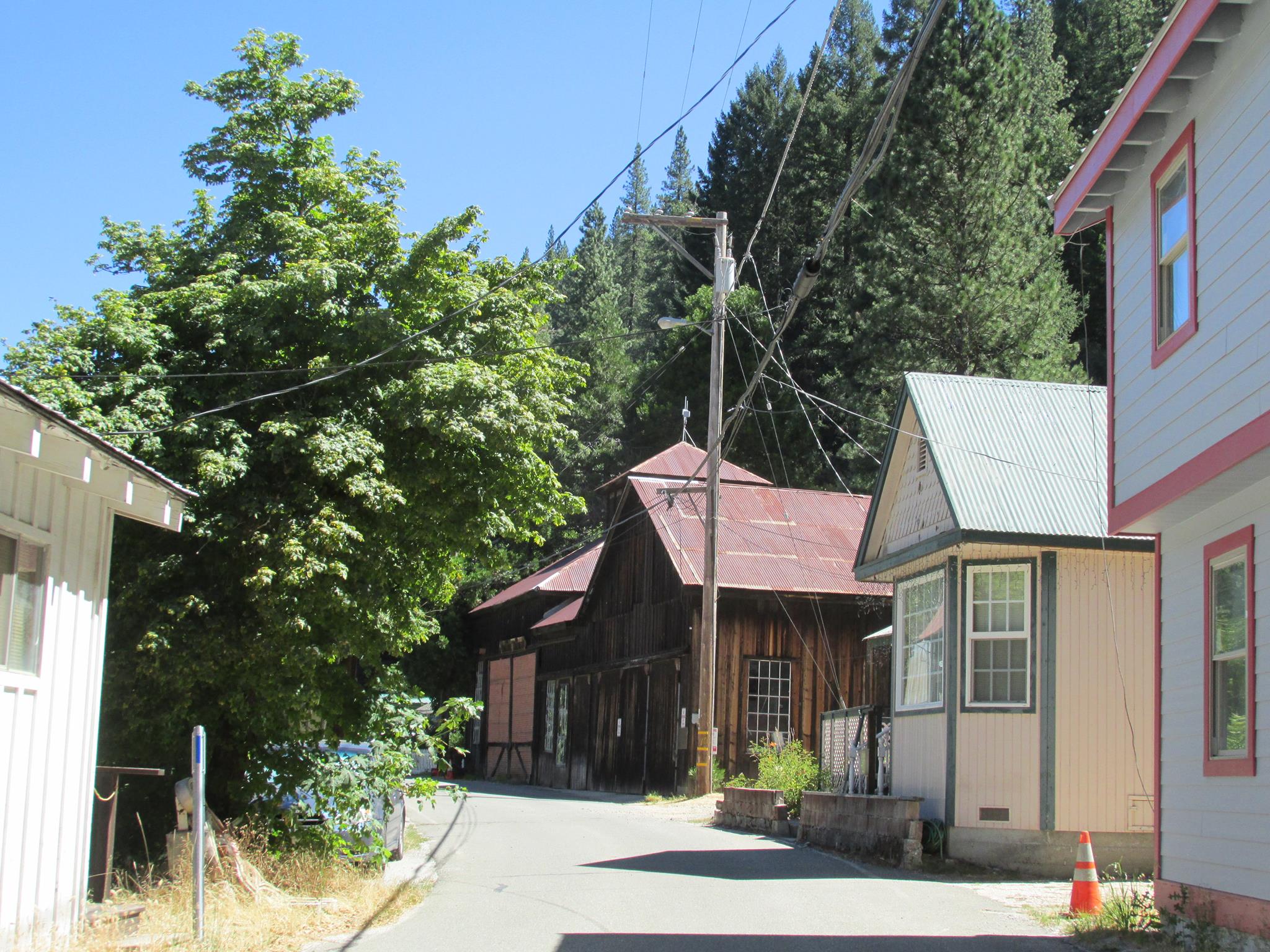 The foundry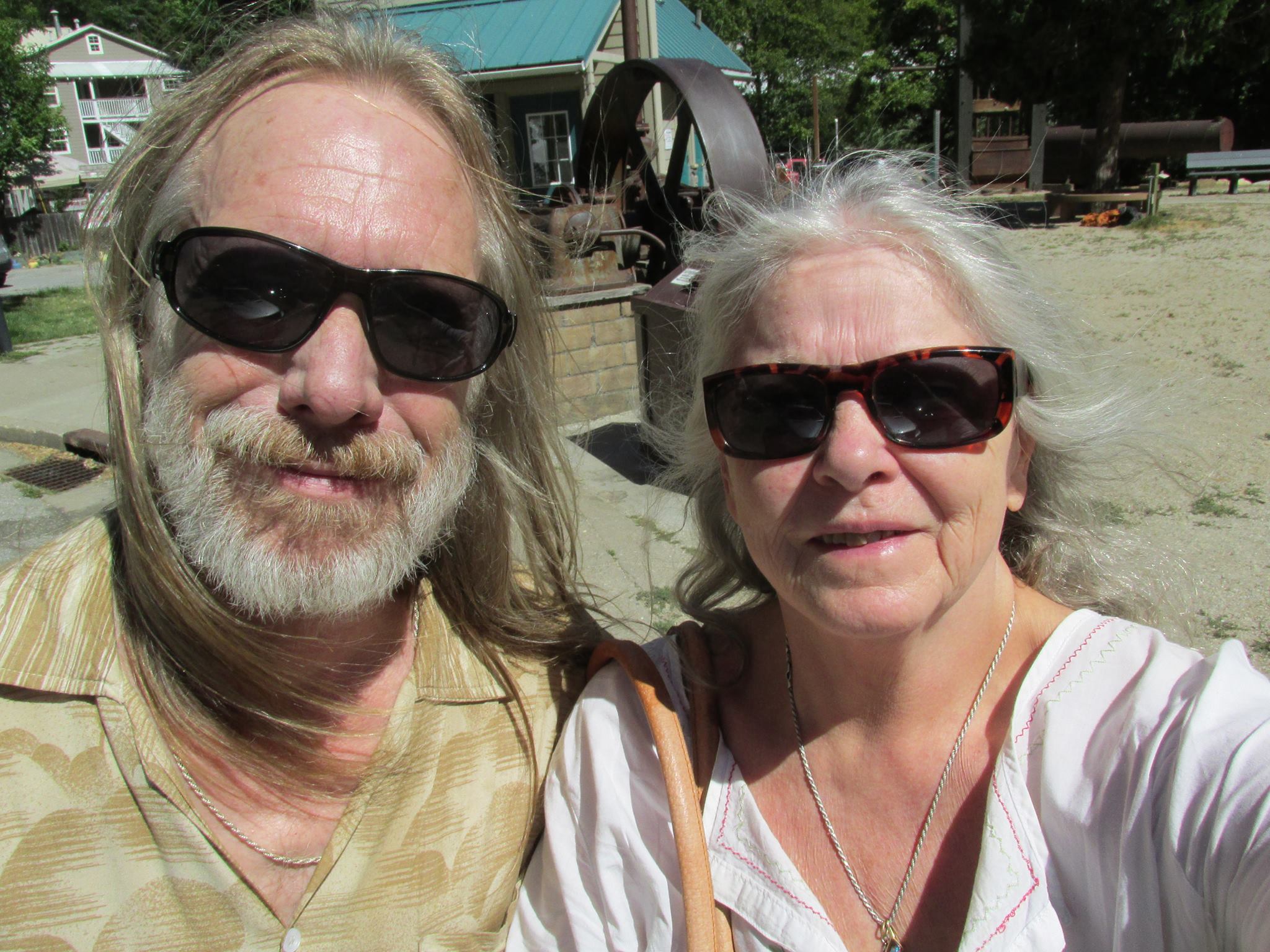 A piston for a stamp mill. We ate at two rivers cafe sitting out on the balcony of course. Everything in walking distance.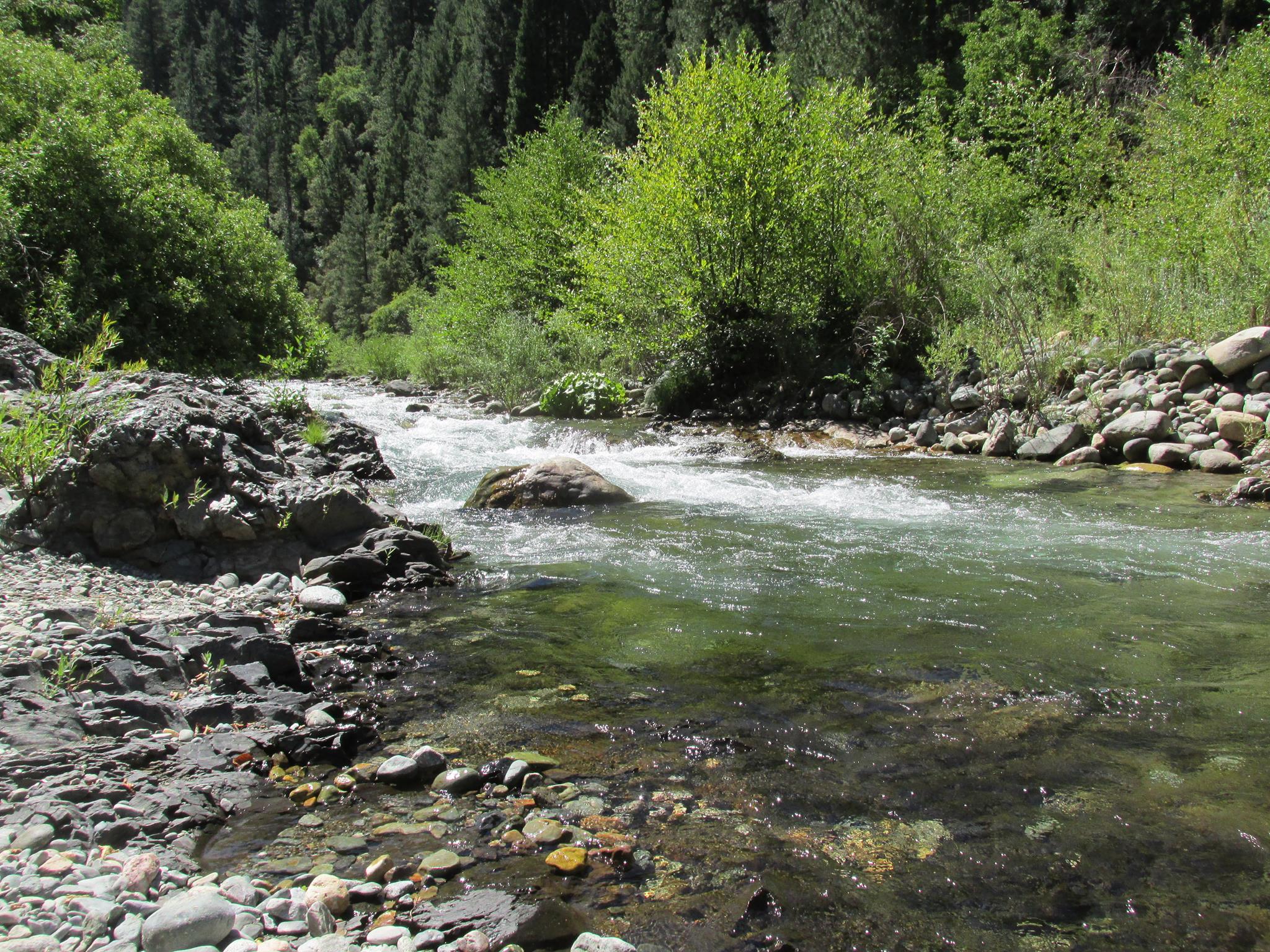 Yesterday morning sat by the rivers, so peaceful, here's the Yuba.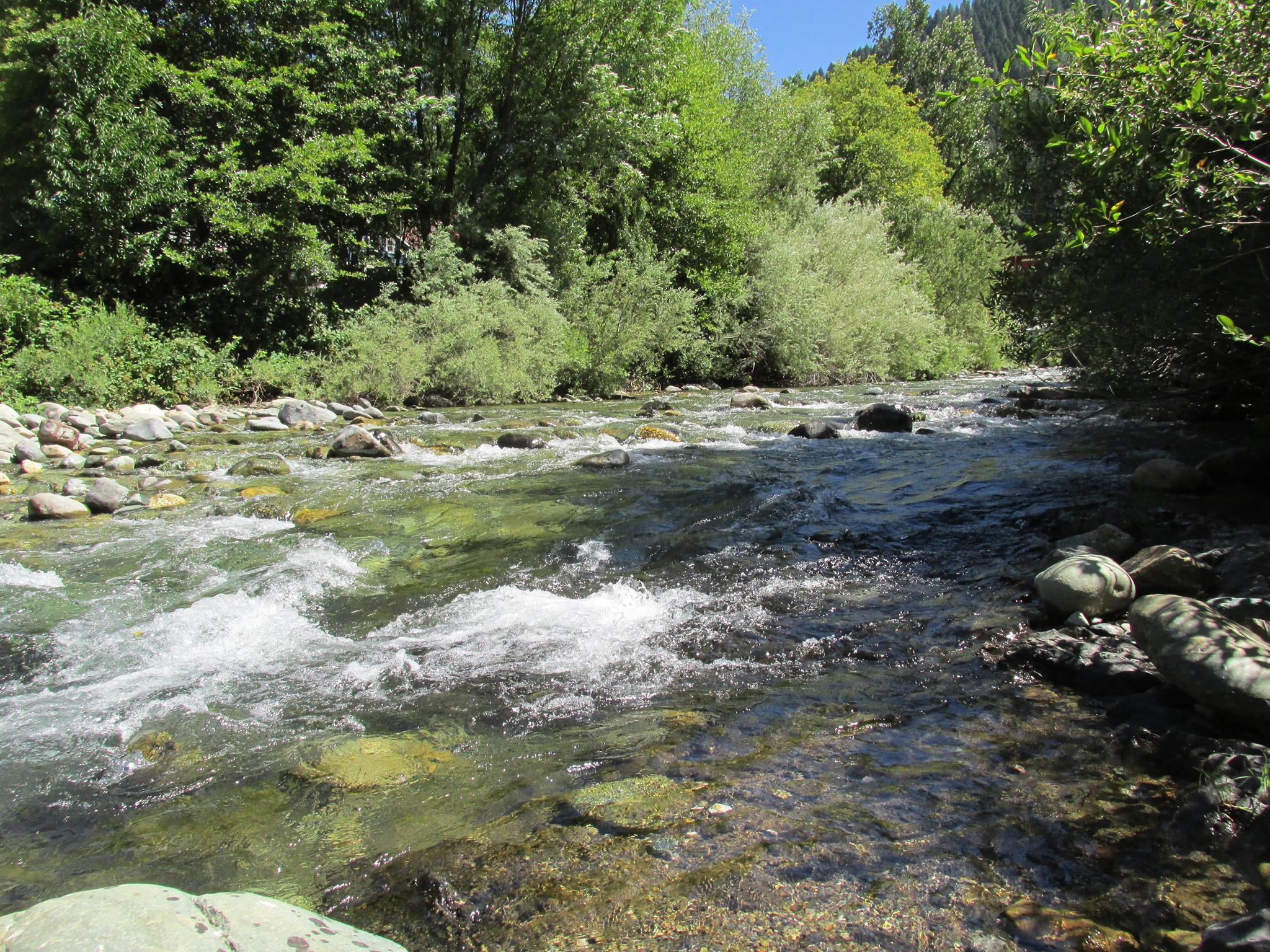 …and the Downie.
So wonderful to sleep with all this water energy, we both slept deeply and we sat by the waters edges most of the day. At one point we looked at each other and both realized we hadn't thought of one thing that we usually grind through, our daily thoughts of all the stuff that needs to be done! We actually mentally let go and really relaxed! Awesome!

On the way home we took another route and swear from now on this will be the ultimate way to come back. We drove higher on Highway 49 along the Yuba River to Sierra City, a one block town basically but with a great reputation among hikers, and bicyclists. Apparently it is the stop where people meet and refuel from the Pacific Crest Trail as this is considered the half way point. There was even hikers who started in Mexico and plan to do the entire trail!  People from all over the globe. Young, bright eyed, filled with energy, tanned muscles, ya I remember those days LOL. I always thought it would be cool to do that.
Anyway, after that we took a new-ish road called the Gold Lakes Hwy. which cuts back north across several mountain regions. There are many trails and 20 lakes and the views! Wow, like our own version of the Alps with rugged giant outcrops of bare mountain peaks among others of deep forested beauty. Once through that road we ended up at a small community called Blairsden, just at hwy 70 and close to home. They have a local brewery there so we stopped to check out their wares. Nice.
So the final leg down 70 took us all along the Feather River, Gosh I'm so blessed to see all this beauty! I was sucking every bit of it in! And the Feather River canyon has it's own special sights. I believe there are more train bridges zip zagging back and forth through this canyon then most and there are 2 or 3 levels of  tracks, each bridge is different, built in a different year. Then there are cool tunnels on the road, carved through gigantic boulders! One's called elephant rock, another Grizzly Rock. Anyway through this winding road along the rivers there's several small water falls cascading  down next to the road from all the creeks spewing into the river.
Us locals have a routine stop at a place called Belden, where you drive across the river on this one lane bridge and perched on the canyons edged is a camp area, some cabins, and a little cafe and bar with a nice balcony to view the river with a cold one. Over the years it's atmosphere has evolved from a fisherman's stop to something a bit more creative, when like about 7 years ago? they began having small music festivals of various kinds of music.

 A small little group of rooms have been added, etc. The place is getting fixed up! Great to see it still kicking, oh and they are getting set for another event as booths were setting up. I like the name on the posters, it's 'For the funk of it' festival LOL
Anyway home, there's no place like it 😉 itchy hasn't stopped purring even in his sleep awe… Now I guess it's time to get back to work!
---