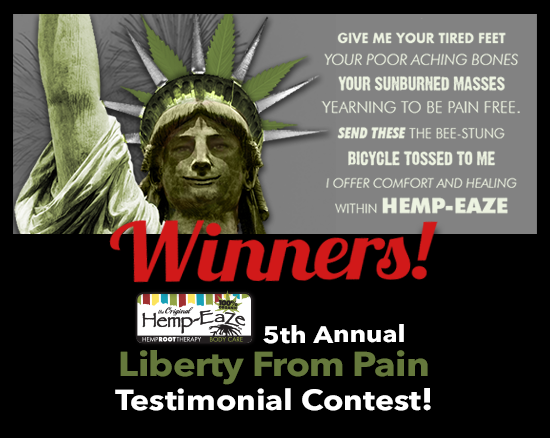 ---
Drum roll please…… (clearing the throat)
Ladies and gentlemen we are ready to announce the winners of this years' Hemp-EaZe™ Liberty from Pain Contest!
#1 Entry #1 Ron Hunt, got 86 likes,
#2 Entry#3 Janie Saylor, gathered 22 likes,
#3 Entry# 9 Drew McGinn, received 19 likes.
#4 Entry#4 Lisa-Marie Sihler, collected 16 likes,
#4 Entry #2 Cigdem Baysal La Salle, got 12 likes,
Tied #5 Entry # 7 Lisa Fountaine, has 10 likes,
Entry # 8 Tara Troutman, collected 10 likes
Close behind is Entry #5 Paul Brennan, with 9 likes,
Then Entry #6 Sharon Marie Gorrell, gathered 8 likes,
Everyone is a winner and will receive a gift.
Thank you all so much for participating and sharing your Hemp-EaZe™ experiences! 🙂
and thank you all for joining in the fun and voting to help these fine folks!
---