Kristan Hinson Hargrove , who has been a long time fan of Hemp-EaZe™, has just shared some wonderful news!
---
Hemp-EaZe™ successfully treats Shingles!
Her young son has developed Shingles, and nothing has helped him find relieve, He's been skeptical about putting anything on his body to avoid having any complications. Mom, who can't stand to see him suffer, talked him into trying Hemp-EaZe™ on the rashes and here are the results!
This result is less than 10 days old folks!
---
First three pice – Before applying Hemp-EaZe™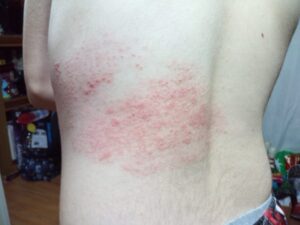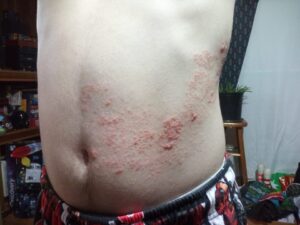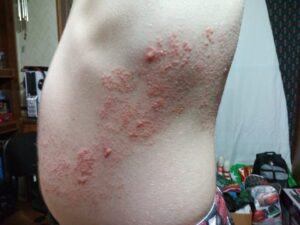 ---
The 3 after pics ! See how it's disappearing!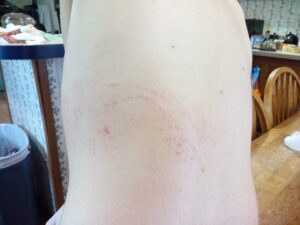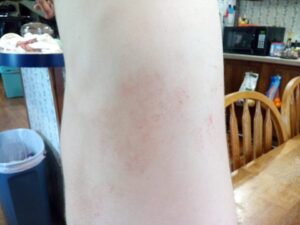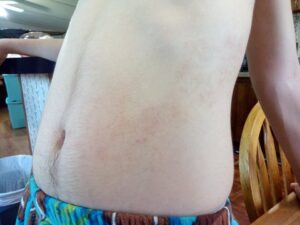 ---
in her own words –
Kristan Hinson Hargrove; I'm still loving Hemp-Eaze! <3 Forever grateful for it! <3 
Over the 2017 holidays my 14 year old son came down with the shingles. A rare case for someone so young. After much arguing, because the rash hurt him so much, we tried several things on the rash but it seemed to make the rash worse and my son refused to let us put anything else on it.
We put in our order for and talked him into letting us put some Hemp-Ease on it. Our blessed order arrived <3 and he let us put some of the Hemp-Eaze Sooth & Protect lotion on it, a moment after applying it to his rash he said it felt tingly and soothing.
He is past the infectious stage now and it's down to just getting the rash to heal up. It still hurts him some and has started to itch, So we put some of the Hemp-Eaze Therapy Cream on it and he says it feels better and it is also looking better! nearly healed completely!
Hemp-Eaze is the only thing our son will allow us to apply to the rash. Hemp-Eaze is heaven sent, a high-quality miracle product made by wonderful people who truly put love and knowledge into their products. Thank you SO MUCH! We trust nothing else for our family's skin care needs!
Others added their shingles experience. – 
Robin R. Lace; Also just to be clear…Hemp-Eaze is made in Cali!!!! A USA product!!! It is made of the Hemp Root and other all-natural goodies. And just like it says on the jar "Cannabis Root has studies that have been done that prove it kills staph infections" I as well as others I know use this for shingles with great results!!! For me, that kept me from sitting in a hospital for days having all kinds of drugs pumped into my body….something that I do not have the time or the money for!!!!
Stacy Jordan Enriquez; I had shingles and used this product and it worked wonders!! I still have some and use it on cuts and they heal immediately!
Rummy Lane; I had shingles and it's the devil's work. It seems that I remember using Hemp-EaZe some on mine too. So glad Hemp-EaZe worked for this child. <3 I can't believe it hit someone so young.
Janene Mulley; Yes down under we at Hempathy have a customer that suffers with shingles. She swears by the Hemp & Honey body butter. Who would blame her (never understood why they are called 'shingles')
---
---