We continue this healing journey with the creation of the Original Hemp-EaZe™ Soothe & Protect Body Care Lotion.
We have been able to keep branching out and reaching more people to help because of the many positive testimonials that our happy customers continue to give us. Over the years and to this day, people share their stories and help others gain confidence to try a sample. These are just a few.
Hemp-EaZe™ Soothe & Protect Body Care Lotion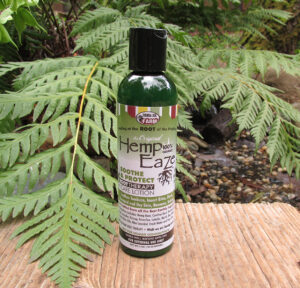 Saved the day! 06/02/2018                                                                                  We spent the afternoon grilling out and getting some sun. A little too much sun. The next day I was itchy and burned. I tried the usual aloe and it was good but temporary. I decided to reach for this lotion and it was AWESOME!! I spread it all over my burned skin and it was soothing AND smelled GREAT! The lotion also made my skin feel super smoothe and silky.
Awesome! 04/10/2018
The other day I did an experiment before putting on my face powder I applied your cream to half my face and a hemp lotion to the other side and the hemp lotion made me break out but not the Hemp Eaze! Awesome!
Good Organic products– 01/02/2018
The body lotion is great, I have spots of dry skin, I call them lupus marks. This keeps it clear. Better than any of the steroidal cremes the dr would prescribe. It's a reputable company. I order online Hemp-EaZe. Com. It comes from Cali and I get by the 4th day after ordering. Good Organic products
Couldn't live without it 12/19/2017
My favorite is the Hemp-EaZe Soothe and protect lotion. Unlike with common soaps and oils, I can use these and all other Hemp-EaZe products on my face all day, every day and never suffer a moment of discomfort! The Therapy cream and Soothe & Protect lotion smells so wonderful! And work so well I can honestly say it would be torture to live without these in my life!
great to soothe Sunburn 10/11/2017
Mike Took his Hemp-EaZe Lotion with him on his vacation to Hawaii. He used it every time he got off the beach and never suffered from sunburn and had very moisturized skin as a result.
Love it! 09/17/2017
Love the lotion. My skin just drinks this stuff!!
Carol
good for flu aches 07/24/2017
My daughter came home from school with the flu Friday, and I rubbed your lotion on her because she was so achy which helped her sleep. Her fever is down now, thank God. Thanks for doing what you do! Cosmic blessings, Roxanne
Wonderful products 05/18/2017
Wonderful products. Terrific people. You can't go wrong.
Unlike most products on the market, all those made by hand by Darcy actually do what they claim to. They are all made with love and organic-only ingredients
I love this lotion! 03/06/2017
I keep it in the fridge, so it's nice and cool when I use it. wonderful, especially in the summer
Great! 01/11/2016
I use the Hemp-EaZe Soothe & Protect Body Care Lotion with confidence, and nice soft skin!  I can't get over how the products absorb and not sit on the skin!  So awesome!
Simple Miracles 08/28/2015
Finally blessed with how to treat Norwegian skin. This stuff is the bomb. Feet, legs, arms, along with the face out in the elements. Let alone all other uses. I'm a hiker and read that it helps sunburns. I tested it and it so true. So, know I even use it as sunscreen. Any skin problems get this stuff on and go natural. Anything natural needs time but this is fast and it works. Do your skin a favor.
Amazing quality 01/15/2015
My skin thanks me every time I use this lotion. If you read labels and prefer natural
ingredients, I believe with confidence that this lotion is well worth trying.
Lots of healing properties, super fast absorbing, refreshing/pleasant smelling and after a shower it's
a real treat for the skin.
This Lotion Gets 5 stars! 07/31/2014
The Hemp-EaZe Soothe & Protect Body Care lotion gets 5 stars from me. Unlike most of the lotions on the market, there are no mystery chemicals that may harm the skin and environment, this lotion is all organic, made from herbs I recognize and that are great for the skin.
When I spread some lotion on my skin, I am looking for a lotion that soothes and is healing, not something that sits on the skin, clogging my pores, making me sweat and then feeling parched and needing more.
With the Hemp-EaZe Lotion, my skin drinks it up, there is no film. I see my skin return to health and once in the morning is all I need.
Big Fan Of The Hemp-EaZe Body Care Lotion 5 Stars ***** 07/31/2014
Kristan Hinson Hargrove 
The Quality of your product is unbeatable! It is TOP shelf #1 in this household! I LOVE it! We use it for EVERYthing! Bug bites, cuts, blisters, sunburn, dry skin, muscle pain relief, Etc. I feel confident in using Hemp Eaze for everything because I know it's safe and 100% NONtoxic, All Natural, Top quality made! The love and pride y'all put into your product shows in just how WELL it works! I'll NEVER use another lotion again! Hemp Eaze is all we need! It smells wonderful AND is good for the skin! I see no reason to ever use anything else!